Wedding Anniversary Party Etiquette for Ordering Discounted 99¢ Wedding Anniversary Party Invitations
Save With 99¢ Wedding Anniversary Etiquette for Your Celebration Party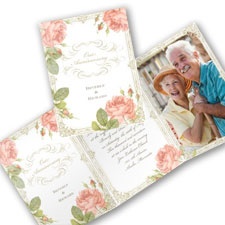 A wedding anniversary party is an ideal way to honor your close loved ones whose marriage has withstood the test of time. Children, family members, and close friends of the happy couple can host the celebration, or the couple themselves can throw their own exciting bash. For this special anniversary milestone, you'll definitely want to follow the wedding anniversary etiquette guidelines that will ensure smooth planning, lots of happy guests, and a party celebration that shows the couple of honor how cherished and inspirational their union has been to people they love.
Remembering the Traditions of Anniversaries
Celebrating and honoring for these happy occasions have been traditionally held for all milestones, especially the more significant ones like 10th, 25th, and 50th. If you are celebrating any particular milestone, there are lots of traditions to rely upon. Each year is typically associated with a traditional flower and gift. For example, the golden 50th with gold and violets or yellow roses, and the sliver 25th is denoted with silver and iris. You can start by honoring these traditions by ensuring your decorations and theme incorporates the appropriate floral arrangements and color scheme. And, always a favorite is to bring include elements of the wedding as well, if you have access to any of these. You can mimic the wine that was served, the wedding cake flavor, and even the first dance song to transform couple back to their very memorable and special day.
Creating Your Unique Wedding Anniversary party Invitations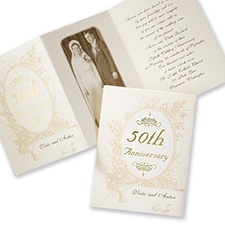 As you are planning, selecting, and customizing your discount 99¢ anniversary parties invitation cards, you'll need to ensure they are completed and in the mail four to six weeks before the event. However, these are suggested minimum, so if you have invited guests who are traveling for the celebration, or if it near or coincides with a holiday, you should allow another week or so. The party invitation should complement the formality of the event. For instance, if you are hosting a backyard barbecue, a cute little personalized anniversary invite will suffice, but for dancing and cocktails events, you will want to use the premium anniversary party invitation cards.
Matching Your Invitation Wordings to the Type Party Being Planned
And, for your invitation wording, the sky's the limit, but you will need the basic and essential details on all, such as: venue, date, time, guest of honors, and RSVP. Other optional, but sometimes necessary words include: attire; if it is for adults only; and perhaps a cute and appropriate verse or saying, all available in our vast collection of wedding anniversary wording, saying, and verse ideas and samples and etiquette.
And, What About Gifts?
Celebrations of this nature are usually not gift-giving events. As the party host, you can ensure your invited guests do not feel uncomfortable about this issue by simply including a phrase in the invite like, 'no gifts please' or 'no gift please - your presence is our gift'. However, even with either of these phrases, or a similar one, don't be surprise if some guests bring gifts anyway. When this happens, offer your assures that you will pass them on to the celebrated couple, but the presents and gifts should not be opened during the party. Just remember, it is never appropriate to request gifts in your invites.
Use Caution When Planning a Wedding Anniversary Surprise Party
In today's times, surprise parties are often used and popular ways to celebrate anniversaries, but they require lots more organizing and planning. First, your anniversary invitation must make it absolutely clear that the event is a surprise. After all, the last thing you want if for someone gushing to the guests of honor how excited they are about the approaching event. One helpful suggestion is that when the invited guests respond to your RSVP, be sure and stress the need for them to arrive early to help ensure they don't run into the guests of honor. Generally, it works better if the venue for these type events is at an event hall, restaurant, or other similar place. Another benefit for having it in other places besides a home is that the catering, parking, and bar service can be done by the party place.