find most creative invitation wording samples and ideas for all wedding anniversary party milestones with express shipping and discount 99¢ invites
Find Free Wedding Anniversary Party Invitation Wordings + 99¢ Invitations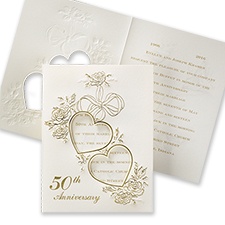 One of the more significant elements for couples who are celebrating an anniversary milestone is that when they purchase their invitations stationery cards from us at InvitationsByU.com you can also totally customize your anniversary invitation wordings. Although all of our affordable 99¢ wedding anniversary invitations include sample words, you have the option of adding your own words, sayings, or verses. Creating your invite wordings is much easier when you avail yourself of our gigantic collection of wedding anniversary wordings to enhance the uniqueness of your invites for the honored couple. And, one of the best parts of our entire personalize and instant preview features it that it is all totally free to use. Your cards can be customized for free, and the font style, ink color, and font size can also be changed to ensure the best possible aesthetics match. So, regardless of whether you are celebrating a 1st, 10th, silver 25th, golden 50th, or any other milestone, you can rely on us at InvitationsByU to have just what you are looking for. Currently all wedding anniversary party invitations are discounted by 65%+ to 99¢ per invitation.
Large collection of Wedding Anniversary Invitation Wordings, Sayings, and Verses Below:
Review Some Wedding Anniversary Invitations Samples for All Anniversary Party Milestones
| | | |
| --- | --- | --- |
| Elegant Flourishes Wedding Anniversary Invitations | Invitation Cards and Wording Samples for Wedding Anniversaries with Candles | Anniversary Golden Vines nvites for Weddings |
| Golden 50th Wedding Anniversary Celebrating Our Love Invitations | Anniversary Invitation Cards and Wordings for 50th Golden Celebration | 50th Wedding Anniversary Borders of Love Golden Invitation Cards |
| Silver Framed 25th Wedding Anniversary Invitations | Silver Invitation Designs for 25th Wedding Anniversaries | 25th Anniversary Vines Invitations and Wordings for Silver Themed Celebration |
| 50 Years Golden Photo Anniversary Invitations with Flowers | Golden Photo 50th Wedding Anniversary Invite Cards | Ultra Contemporary Photo Wedding Anniversary Invites |
| A Lifetime of Vows Thank You Anniversary Note Cards | An Anniversary Thank You Lifetime of Riches Note Card | Anniversary Thank You Fluttering Hearts Note Cards |
and, find even more stylish, popular, and trendy 79¢ invitation designs for all wedding anniversary milestones

here
To ensure the invitation cards for wedding anniversaries are totally unique, the hostess will want to select their own stylish design and add their own words. After all, these unique stationery cards won't just be mailed to friends, but also to members of the couple's family, which is all the more reason you will want to make a positive and lasting impression. But, of course not everyone has the ability to mesmerize others with their word choices so proper words on the cards can be a bit challenging and daunting to some. Those who are not totally sure, or just need a few good ideas will search our large database for wording suggestions, and can be confident of finding lots of exclusive message ideas for the stationery they need for their milestone. However, the right words on the wrong invite cards won't make a lot of sense either, but fortunately you won't have that problem with our website.
Because, with us, you don't have to settle for the "other person's wording" and can now use our large collection as a guide, we offer the following suggestion and tips to personalizing your wedding anniversary invitation stationery cards:
The Always Important 'Who, What, When, Where': Although the most mundane and uncreative element, these are essentials that should always be included. You'll want to prepare a list of what your guests will need / want to know for attending the celebration. This list might include who the guests of honor are (couple's names); the party venue location; the anniversary milestone being celebrated; and the date and time. You'll certainly want to include the RSVP information so you will know who will be attending.
Is the Event Casual or Formal: If your celebration will be more informal and casual, that can be included in the invite. Suggestions include, 'Wanna know who has been married for 25 years and still going strong?' If it's going to be a bit more formal, you might start with a more traditional tone, like 'Ruth and Harry Tyler request the honor of your presence in celebrating their golden 50th Anniversary.'
Who is the Party Host: Quite frequently, the children of the celebrated couple plan the festivities. However, regardless of who is hosting it, you will want to include this on the cards with sayings similar to, 'Please join with us as we celebrate the 50th Golden Anniversary of our parents, Patti and Sidney Taylor with a celebration in their honor".
Proper Attire Notices: Be sure and let your invited guests know what the proper dress attire should be. Whether you are planning an elegant dinner party or a barbecue in the backyard, give your guests an idea of the appropriate clothing for the event. Typical phrases might include black-tie optional, formal attire, dress to impress, semi-formal or casual dress.
Select from Your Favorite Invitations: One of the better ways to gather just the right words for your invites, is to look at some of others. Copy the interesting phrases that appeal to you, and then integrate them together to create your own personalized verses
Know the Value of a Picture: We all have heard the saying that a picture is worth a thousand words. Why not consider adding a wedding photo and a current picture to your invitation? Although this is not technically wording, photos can speak volumes to your guests, generating enthusiasm and stirring feelings for the celebration.
Using a Bible Verse, Favorite Quote, or Short Poem. These are always helpful, and we offer a few suggestions:

side by side, year by year
anniversary is the time for celebrating the gift, the beauty, and blessing of enduring love
the three everlasting things: hope, faith, and love; the greatest of these is love
the celebration of yesterday's dream fulfilled; tomorrow's promise renewed.
And, like everyone, you want the wordings on your anniversary party invitations to be perfect, so remembering a few of these suggestions will get you well on your way to creating totally unique and customized party invitation stationery cards for all wedding anniversaries, as you invite your guests to share this all important milestone of this enduring marriage.
Although there are lots of other elements to planning an incredible wedding anniversary party, you'll certainly want to pay proper attention to one of the more important parts of planning – creating interesting and unique anniversary invitation wordings. And, be mindful that there are specific etiquette guidelines and suggestions you'll definitely want to be aware of especially if you are planning for a formal or informal celebration.