Find Discounted 99¢ Invitations and Etiquette for Baby Shower Party
Ensure Your 99¢ Baby Shower Invitations Etiquette is Proper and Appreciated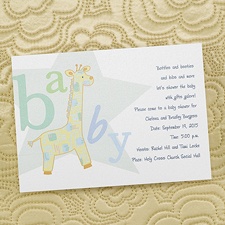 The proper use of baby shower etiquette suggest not only what a baby shower party invitation should include, but it also how each invite should be addressed. In addition to carefully addressing your envelopes, but you'll also need to be aware of and follow good invitation etiquette for baby showers when mailing your stationery and creating the invitations wordings, sayings, and verses for a baby shower party, too. That's why we at InvitationsByU.com offer several services that you can take full advantage of to ensure you remain true to socially accepted shower party invites guidelines.
But, First, a Bit About the Basic Baby Shower Etiquette You'll Want to Know Before Getting Started:
When to Host the Baby Shower Party: These type showers are usually help four to six weeks before the due date, unless the mom-to-be prefers to have it earlier or even after the child is born. You need to be mindful that possibly her religion encourages this or even possibly that she wants to keep the baby's sex a secret and doesn't want gender-neutral gifts.
Deciding Who to Invite: Who makes the final decision as to who to invite, the hostess or the guest of honor? As a general rule, since the hostess is responsible for getting the expenses for the event paid, it is usually up to her to determine the number of guests she is comfortable accommodating. However, unless the event is a surprise, the hostess should give the guest of honor the number and ask her to prepare the entire list using that number as a guide. If it is a surprise party, then all bets are off! The hostess will need to get with the honoree's best friend, a family member, or anyone else who knows the guest of honor well enough to make this all important decision.
Just How Many Guests are Too Many: An event like this is sort of an intimate affair, and definitely not a gathering of anyone and everyone the guest of honor has ever known. You will want to limit the guest list to family and close friends. If you are hosting the event in a home, as a general rule of thumb, you'll want to limit the guest to, say, 20 since inviting more is definitely not doing any one a favor.
One of the More Popular Questions is Should the Invitation include Registry Details: Although many baby invitations do, it can sometimes make the event seem more like a bit of a gimme-fest. A better idea is to not include it on the invite cards, but pass it around generously when and if the guests ask you for it. Or, you can ask them to contact the honoree directly, or her family.
Should I Send Thank Yous: Yes, sending personalized baby thank you cards are simply a must and should be sent within two weeks after your party.
Invitation Etiquette for Baby Showers - Envelopes and Addresses: When you are writing out envelopes, you'll want to be mindful about how you address the recipients. Married invitees should always be addressed by 'Mr. and Mrs.,' followed by the husband's first and last name. And, all those in the household over the age of eighteen on your list should get an individual shower invitation. Unmarried couples living together should be addressed individually on the envelopes. To help with your addressing time, we are happy to imprint your return address on the back flap of your envelopes for a small additional costs. This is usually well worth the additional expenses as it ensures accuracy and consistency.
Remembering and Following Good Etiquette for Baby Showers - When to Mail Invites: There are few things more chaotic than last minute event preparations, and at the top of the list of concerns is mailing your invite cards in a timely and proper manner. As we wrote above, you'll definitely want to get them in the mail four to six weeks in advance of the event. We help with this situation with our same day printing and shipping features. If you complete and approve your order by 2:00 p.m., we guarantee to print and ship it the same wording / business day, no exceptions.
Our prompt express shipping policies almost guarantees that you are following standard baby shower etiquette guidelines.