the mom-to-be should send customize and cheap 99¢ thank yous to express her appreciation and gratitude for those who gave gifts to the baby
Popular Baby Thank You Cards and 99¢ Thank You Baby Shower Card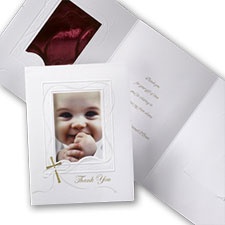 The approaching arrival of a new baby is always a highly anticipated time. Whether the baby is the first or the 5th child doesn't really matter. The joy and excitement is in the hearts of the parents and siblings as the case may be, as a baby shower is always a welcomed occasion. Your 99¢ baby shower invitation cards always brings baby gifts that are so wholeheartedly given by close friends and kin are a bonus for the soon-mom-to-be. As the baby gifts are opened the expectant mom can't help but wonder how she should go about writing the personalized and affordable 99¢ baby thank you note cards. But, thanks to us at InvitationsByU.com, that's absolutely No problem. With our large database of sample free thank you baby card wording, sayings, quotes, and verse ideas, you'll find showing your gratitude almost enjoyable. Click Here for Most Precious Baby Shower Thank You Note Cards
Current Special Promo of All Exclusive Thank You Baby Note Cards Discounted to 99¢ Subject to Change Without Notice
Browse a Sampling of Baby Shower Thank You Note Cards Below
| | | |
| --- | --- | --- |
| Baby Clouds & Raindrops Thank You Note Cards Available in Pink, Blue, Yellow | Add Jungle Animals to Your Baby Shower Thank Yous | Thank You Clouds with Raindrops Baby Note Cards |
| Little Lamb Baby Shower Thank You Note Cards | Butterflies in the Clouds Thank You Baby Cards for Boy, Girl, or Neutral | Prince or Princess Celebration Baby Shower Thank You Cards |
| Baby Hearts & Cupcakes Thank You Note Cards in Pink, Blue, Yellow | Photo or Sonogram Baby Thank You Note Card | Baby Butterflies & Clouds Thank You Note Card for Boy, Girl, Natural |
| Elegant Thank You Baby Note Cards | Baby Boy, Girl, Neutral Duckling in a Bathtub Shower Thank You Notes | Baby Shower Damask Thank You Cards |
| Thank You Baby Footsteps Notes in Pink, Blue, Yellow | Baby Shower Appreciation Thank You Note Cards | Thank You Baby Pink Blue Yellow Shower Clothesline Cards |
and, find oh so many more trendy, stylish, popular, and chic thank you baby shower cards

HERE
The mom-to-be writes the thank yous to express her appreciation for those who gave gifts to the baby. A mom-to-be, in her last trimester, usually feels so tired all the time that writing these appreciation notes for sometimes dozens of people could be draining for her. There are lots of these type stationery cards in bookstores, in baby shops, and at online shoppes like InvitationsByU that offer a variety of thank you stationery cards. However, your best bet is to shop online where you are guaranteed to find the best quality stationery at the best prices, Guaranteed!
Today, buying gifts for a shower has never been easier. In earlier times, you would have to buy neutral gifts for the baby as its gender was usually not known at the time of the celebration. However, with today's technology and medical advancements it is now possible for excited friends, aunts, cousins, and all to buy gender-related gifts and bring to the party. Printable baby shower thank you cards are now available according to a baby's gender too. We have them for boys and girls and in situation where the parents prefer not to know the gender of their baby in advance, we offer neutral colors like green, yellow, and brown.
If the mom-to-be was not able to write and send out her shower thank yous before the 'big' event, then she can actually hit two birds with one stone by sending out birth announcements along with her thank you cards, all rolled into one. However, it might be more appropriate if you included a personal note with your announcements and thank yous. To serve a dual purpose, the card could be blank with the mom writing her personal thanks and at the same time announce the birth of the new baby. One great idea is to have the note written on a personalized card with the baby's picture.
Giving a generic thank you is not as pleasant to receive as receiving personalized one. A mom-to-be should keep a list of the gifts she received and the person who gave it. The thank you should reference the actual gift given by the friend or kin that would be appreciated even more. This is why it is important to make a list of gifts to avoid confusion when writing the appreciation notes. It would be terribly embarrassing to thank friend A for a gift that was actually given by friend B. Good friends will give thoughtful embellished baby thank you cards.