Announcements Etiquette for New Baby
Following Proper Birth Announcement Card Etiquette for Announcing New Babies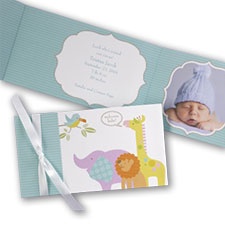 In today's world, it seems as though there are ever-changing rules and etiquette for just about everything, including announcing your new baby with personalized birth announcements. The entire subject of acceptable and proper etiquette for creating and sending birth baby announcements can sometimes be a confusing maze. As the mom-to-be, you're probably already struggling to get a handle on tons of new things, especially if this will be your first baby. So, you really want to know, simply, precisely, and quickly, how to deal with certain basic issues. For these reasons, and more, we at InvitationsByU.com has collected and presented a simply and helpful overview on the essential details and aspects of the best etiquette for birth announcement cards along with the most creative announcement wording for baby. Recognizing that these are merely guidelines and suggestions, and not absolute rules, we hope they are useful to you.
Deciding Exactly What You Want Your Custom Birth Announcements To Do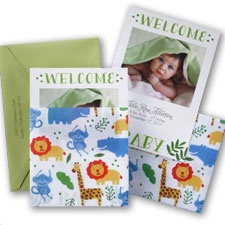 We all know that baby announcement cards are a written means of presenting your newest addition to the world. Our styles and types of exclusive announcing cards vary a great deal varies greatly based on your personal taste. All cards are quite inexpensive and can be totally customized using our patented personalize and instant preview features. But, we always remember that what is most important is that you want your infant's first introduction to the world to be special.
Explosive Popularity Gain of the Baby Photo Announcements
Historically, birth announcing cards were not adaptable to adding a picture of the newborn. But, with advancements in technology, adding photos of your special addition have become a very popular trend. After all, what proud new parents aren't eager to mark this milestone by showing off their bundle of joy in the most unique and classy manner – with a picture?
Creating Your Announcement List – Who to Send Them To?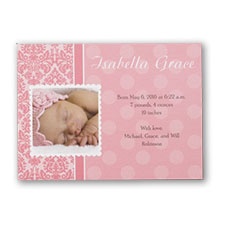 Deciding whom to send your announcement to is sometimes difficult, as there are no hard and fast rules. Generally, you will probably want to start with everyone you want to share the happy news - your closest relatives, and dearest friends. After this initial group, you might want to add other friends and relatives in which you maintain some contact with, but not continuously, as this group will no doubt be pleased to hear from you about your momentous event. And, from here, you might want to expand your mailing list to include social contacts, coworkers, and business associates.
Deciding the Best Time to Send Announcing Cards
The general and accepted etiquette for sending your affordable baby announcement cards is as soon as possible after your baby's birth. But, being a bit practical, the lives of new parents undergo a major transition once the new lil one arrives. It's not unusual for several months to go by before the announcement cards are actually mailed. However, if pushed, it's best to get them created and mailed within two to three months after bring the new baby home from the hospital.
One helpful suggestion is to combine your baby's birth information with a card for the holidays. We offer a lot of unique, colorful, and creative announcements that can be personalized for both your baby's birth and for holidays such as Christmas, Halloween, Oktoberfest, Mardi Gras, Easter, Valentines Day and more.