after your bundle of joy arrives, there will be times when you are totally exhausted, so finding help with your birth announcement wording is oh so helpful
Colorful and Unique Birth Announcements Wordings for Announcing Your New Baby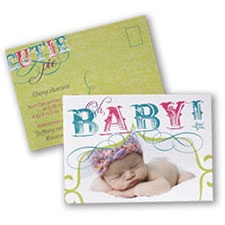 It might appear that creating really inspiring birth announcement wording is the last thing you want to deal with after you have had your new baby. While baby announcements wordings are extremely important to the overall success of your birth announcement cards, with a new baby in your life you'll be longing to spend each and every moment with your new arrival. But, of course, there will be lots of times when you are absolutely exhausted too, so coming up with baby announcing stationery expressions will be the last thing on your list of wanting things to do. For these, and lots more, reasons, we at InvitationsByU.com provide you with free features you can use to shape your invitation card expressions and wordings.
Select Your Announcement Wordings for Your Baby Announcing Occasions
Find a Variety of Pregnancy and Baby Announcement Card Samples for Announcing Your New Bundle of Joy
and, for lots more unique and discounted cards for announcing you are pregnant or birth of a new baby, click on the appropriate design above
Interesting Birth Announcement Wording Considerations - When couples want to share their exciting news about a new baby, they'll be able to find the most ideal announcing stationary right here. They can also find many interesting ideas for the right words so they will impress those who receive them. In addition to the baby arrival details, InvitationsByU can offer lots of other ideas about what baby announcing words you can add to the cards. Poems, verses, quotes, and other special messages can be printed directly on the cards along with the length and weight of your new baby. Choosing colorful sayings on the cards should not be undertaken lightly, as this piece of stationery will, in all likelihood, become a keepsake that parents and others will cherish and keep forever.
Custom Baby Announcement Wording Ideas - If you are looking for suggestions for your card expressions, look no further than here at our website. There's no reason to spend hours surfing the net for sample wording ideas to tweak or edit. We offer free samples of announcing words and text, and you can easily insert your own text you create until the announcing card is ideal for your occasion.
Popular Baby Announcements Wordings - While you might choose lively wording for your announcement cards, you can also make your expressions colorful by modifying ink selections, too. For example, if your new arrival is a handsome little boy, you could use colors like blue or green, and if your new arrival is a beautiful daughter, use colors like pink and yellow. You also have the option of previewing, in real time, and modifying font style and type size as well as its color when you order invite cards from us. These same options are also available on all our printable birth announcement thank you cards.
At InvitationsByU, you have total control over your exclusive birth announcement wording, plus you are eligible for our special promos like 10 free cards and free shipping, with minimum quantity purchases.