Invitations Etiquette for Bride Shower Party
Including the Correct Bridal Shower Party Invitations Etiquette is a Must!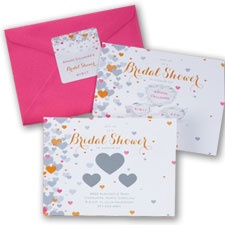 Just like everything associated with brides, parties, and weddings, there are lots of suggested etiquette for bridal showers, such as when, where, who to invite, who not to invite, and the list goes on. Both the hostess and bride can often find abiding by all the bridal shower etiquette guidelines a bit challenging and difficult. For these reasons, and more, we at InvitationsByU.com have collected a list of all the more popular questions, with appropriate answers, regarding bridal shower etiquette, invitations for bride shower etiquette and even the invitation wording etiquette, all to keep you from making unpopular choices.
Preparing Your Guest List – Etiquette Do's and Don'ts
Good etiquette seldom suggests who shouldn't be invited, but rather who should. Top of those to be invited includes the bride and mothers of the bride and groom along with any stepmothers on either side. Next, be sure and include any sisters of the bride and groom, and, by the way, they should be invited to all the bridal parties held on behalf of the future bride. Those people who are not invited to the wedding shouldn't be invited to the shower party either.
Other than these particular examples, the hostess and bride should coordinate their efforts to create the complete list of guests. The number invited should be kept within the pre-approved budget. However, there is one rather current trend for guests and that includes inviting the guys. This event is often referred to couples showers, is very popular, and deserves some consideration.
Selecting and Customizing Your Bridal Shower Invitations
You should begin your search for just the right bridal shower party invites by browsing our large collection of the latest styles and creative bride invitation designs. Once you have found one that complements your theme, we encourage you to check out our extensive collection of invitation wording ideas and samples for bridal parties. You can add your own wordings, fonts, type style, and ink color, and then instantly preview your work. This process may be repeated any number of times until you get your invite exactly like you want. When this happens, simply complete your check out and your proof with be emailed to you within one hour.
While deciding on your invite cads, here are a few suggestions worthy of consideration:
plan to send one invitation to each guest even if they live within the same household
all invites should be addressed by hand; do not use pre-addressed stamps
use the formal name of invitees like Mrs. Sidney Porter, rather than Sarah Porter
mail all invites four to six weeks in advance of the event date
your RSVP should include an email address or phone number for guests to respond
include the bride's registry information but don't include the tacky cards most stores provide to put in the invitations
And, Don't Forget Those All Important Bride Thank You Cards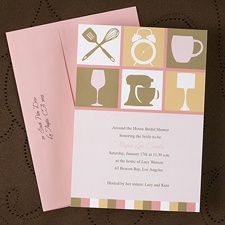 Bridal thank you note cards are absolutely required for each person who gives you a gift. If several people contribute to one gift with others, you should write each person a thank you. All thank yous should be mailed with two weeks of the shower. Extra special thanks should be given to your hostess and others who went that extra mile for ensuring your shower was a success. To ensure no one is left off your list, it's a good idea for the hostess to ask the guests to write their name and address on a list as they enter the party.
We hope our tips and suggestions were helpful and answers all of your bridal shower etiquette questions. If, by chance, you do not see an answer to your question here, just give us a call or email us and we will respond within 24 hours.