Invitations Etiquette for Weddings and Brides
Must Know Bride and Wedding Invitations Etiquette for Every Bride-To-Be
Weddings, whether formal or casual, are almost always steeped in lots of tradition and are deep in certain etiquettes. Bride and wedding invitations are certainly no different. Because of these deep traditions and the more formal nature of invitations for wedding etiquette, all the future brides will definitely want to do a bit of research into those guidelines relative to her upcoming wedding, including the unique invitation wordings for wedding invites.
Deciding When to Send Your Custom Invitations
Just as soon as a date is set for your wedding, you need to set a date as your deadline for completing and mailing your personalized wedding invitation cards. Traditionally, these invites are mailed approximately six to eight weeks before the event to ensure that your invited guests have sufficient time to adjust their schedule and make travel arrangements.
Addressing Your Invitation Cards – Yes There's Some Do's and Don'ts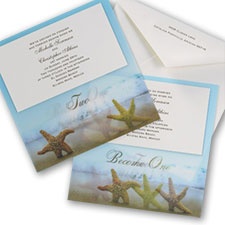 With the commonness of blended families today, addressing your invites can sometimes be a bit challenging and create quite a conundrum. If the parents of the bride are divorced but still jointly hosting the wedding, their names should be listed at the top of the invitation with the mother of the bride's name on the first line, and her father's name on the second line.
If her parents are divorced and remarried, it is best to list only her parent's names on the invitation, but the name of the step-parents can be used as well. Her mother and her new husband's name should be placed on the first line, and the father's name and his new wife's name should go on the second line. Confused??? Here is an example for your review:
Mr. and Mrs. Sidney Porter
Mr. and Mrs. Anthony Johns
request the honor of your presence
at the marriage of their daughter
Alice Rene Porter
If one of the parents of the bride is no longer living, the surviving parent should send the invitation. In the event the bride has no living parent, the invites may be sent by the bride and groom or from other close relative. For this type situation, see an example below:
Miss Rene Porter
and
Mr. Jonathan Hampton
request the honor of your presence
at their marriage
And, There are Some Details to Always Exclude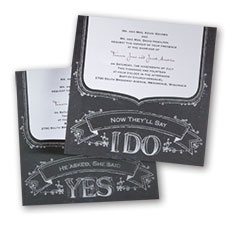 You'll want to include as many of the details as possible on the invitations, there are certain items that should not be included. With today's technology it is now common to include information about the couple's wedding website, usually with a small insert card accompanying your invite, it is totally unacceptable to add registry information. The mentioning of gifts implies the expectation of gifts and is considered discourtesy and impolite. As an alternative, the couple can either include registry information on their website or inform close family members and friends and wedding party members and rely on them to disseminate the information.
Because of all the details and fuss of eventually getting to say 'I Do', it should be remembered that the primary goal of all those planning events like this is ensure the guests feel not only comfortable, but welcomed. If you are uncertain about any of the custom wedding invitation cards and ceremony suggestions included in this article, then it is probably better to break with them, especially if it will save some possible hurt feelings or maintain the familial peace.