it is customary to really send personalized and stylish bridal shower invitation cards to invite family and friends of the bride party and wedding ceremony
Ensure Your Bride Party Invitation and Wedding Invitations are Impressive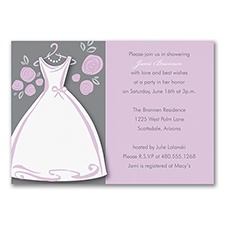 Bride wedding showers are a celebration party for the future bride before her wedding where she is given gifts. Although today's custom is practiced mostly in the U.S., it is believed that the practice originates in Brussels, Belgium during the 1860s. Originally, it was said to have started from earlier dowry practices when a poor family would not have enough money to provide a dowry for their daughter, or in situations when a father refused to provide his daughter with her dowry because he disapproved of the marriage. In either of these situations, friends and family of the bride-to-be would band together and offer gifts that would compensate for the dowry. This would then enable her to marry the man she chose. This version dates back to the Netherlands in the 16th or 17th century. During those days, there was no need for today's glamorous bride wedding invitations or bridal wedding shower invitation wordings offered exclusively at invitationsbyu.com.
Select Your Bridal Shower and Wedding Invitation Cards Needed
Find Popular and Affordable Bride Invitation Designs for Bridal Parties and Wedding Ceremony and Celebrations Samples
Bridal Shower Graceful Lace Invitations 25 for $96.00

Celebrating Marriage Announcement Card 100 for $239.90

Vintage Pearls and Lace Wedding Invitation Cards100 for $299¢.90

Bachelorette Heart Dots Party Invitation 25 $96.00

Bridesmaid Bachelorette Party Invitation Cards discounted to 99¢ with quantity

Vintage Bachelorette Woodgrain Love Party Invites 100 for $129.90

Damask Dress Invitation for Bridal Shower Party 100 for $134.90

Wedding Dress Bridal Party Invitations discounted to 99¢ with quantity

Jar of Flowers Bridal Shower Invites 100 for $134.90

Engagement Bubbly Cheers Party Invitations 25 for $96.00

Engagement Party Invitation Announcement discounted to 99¢ with quantity

Hearts in the Sand Engagement Announcement Invitation 20 for $49.00

Vision of Love Marriage Wedding Announcement 100 for $358.90

Shimmer Wedding Marriage Announcement Card 100 for $474.00

Wedding Birds on a Vine Marriage Announcing Card 100 for $129.90

Rehearsal Dinner Night Before Bubbly Invitations 25 for $96.00

Rehearsal Dinner Stylish Invitation discounted to 99¢ with quantity

Rehearsal Big Night Before Dinner Party Invite 25 for $96.00

Shower Invitation for Bridal Party Celebrations

Bridal Shower Bliss White Invitation Cards 20 for $49.00

Purple Posies Invitations for Shower Party 100 for $134.90

Thank You Bride Shower Note Cards 25 for $11.90

Simply Kathleen Wedding Thank You Notes 100 for $124.90

Photo Wedding Bride Thank You Card 100 for $125.90

Stylish Wedding Invitation Cards by Simply Kathleen 100 for $665.90

Love Story Premium Wedding Invites 100 for $1040.90

Putt'n on the Glitz Wedding Invitations 100 for $703.90

Lacy Burlap Wedding Photo Invitation 100 for $234.90

Wedding Vintage Swirls Photo Invitations 100 for $154.90

Photo Wedding Frame of Flowers Invitation Cards 100 for $234.90

Wording Samples & Ideas for Bridal Showers, Weddings, & Thank You Notes
find more stylish and trendy bride invitation designs for all bridal shower party and wedding ceremony by clicking on your special occasion above
It has become a tradition for the maid of honor to host the bridal shower. Since gifts are required of those who attend the shower, in the past, it was considered rude for a relative of the bride to host it; however, modern day bridal shower etiquette allows anyone other than the bride's mother to host it is us normally held four to six weeks before the wedding. Creative bridal shower invitation cards are used to inform family and friends of the bride shower party. The invites should be sent to everyone who wants to share in the exciting news and attend the planned celebration. If you are unsure of the details that should be included on your invitation stationery cards, then many people will send a save the date card. Then, when all the necessary data is obtained, prepare and send out the invitation for your bride shower party with all the details.
As we know, a bridal party is the time for the soon-to-be bride to relax, kick back, relax, and enjoy some girl time with her many girl friends. It's a time for fun, games, and just being girls. Among the gifts usually give include new house gifts, presents the bride can use to pamper herself (these are more popular at the lingerie parties), or items the new couple can both use as they begin their new lives together. The bride invites giving all the details of the event are a necessary part of any themed shower party. Once you set the date and time for the celebration, then you'll need to decide on an appropriate theme. You'll want to take into consideration such variables as: season or time of the year; time during the day for the event; and the bride's personal preferences. Once the theme has been decided upon, you'll want to immediate choose your bridal shower invitation design and begin totally personalizing it to complement your chosen theme.
Regardless of the type of bridal wedding shower plan to host, you should send your wedding shower invitations out four to six weeks in advance. This allows ample time for those invited to arrange their schedules to attend the event. Plus, it gives them time to select a gift from the gift registry you included on the invite or find one from another source. Including the gift idea can be a delegate and touchy subject, so the best way to mention it is to simply state where the bride is registered at the bottom of the invite.
If you're hosting an exciting lingerie bridal party, you can shower the future-bride-to-be with red, pink, purple, and black lingerie. You can try creating an ensemble and combine all the gifts to create a wardrobe of lingerie for the bride. Another idea is to involve the guys. Whether you are having a stock the bar, kitchen theme couples shower, or tools or house and the ladies and gents are sure to have a blast. However, don't lose sight that this event is all about the bride so be sure and create a bridal shower invite with a bride that resembles your blushing bride-to-be. You'll definitely want to make this day one to remember.
With our gigantic selection of vibrant colored bride wedding invitations that meets all styles, designs, and taste, you are certain to find the bride stationery cards that conveys your individuality for this very special time in your friend's life. Personalize your affordable design to create a totally unique memento to commemorate this fantastic occasion.