Thank You Cards for Company and Business
Personalize Your Company Business Thank You Cards to Show Sincere Appreciation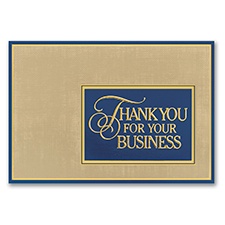 As you are preparing to show your appreciation to a client by sending a personalized company business thank you card, you will want to remember that thank-you note etiquette for businesses is simply a continuation of the common etiquette used by everyone. Preparing and sending company thank you cards are considerate gestures from the sender to the recipient that expresses gratitude for some special effort. In the business environment, a personally worded company thank you card is sent for a number of reasons, including an appointment to discuss a possible business collaboration, after an interview for a new position, or after an introductory meeting.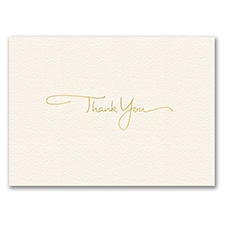 Determining the Type Business Thank You Cards
The type of thank you business card sent depends on the particular situation and the relationship between the person sending and the receiver. For instance, if the recipient is accustomed to receiving email forms of communication, sending a more informal thank you is appropriate. But, there's a lot to be said for customized thank you cards from a business. Unfortunately, this means of communicating your appreciation occurs less and less frequently, so the company's personal gesture will stand out in the recipient's mind and much more likely to be remembered. For meetings, if the participants have no previous relationship, personalized appreciation note is best and most appropriate since it is more personal and will certainly garner more attention.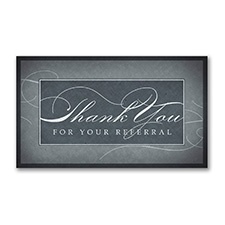 When to Send Your Cards of Appreciation is Important
Your company thank you note card should be sent as soon as possible after the event in which you are expressing your appreciation. For best results, your business note cards should be prepared and sent while the encounter remains fresh in the recipient's mind. The most ideal practice to follow is to prepare and send them either the same or next day following the event.
One of the many uses of these type note cards is to express your appreciation for a person's assistance and / or time. These personal correspondence cards lets the receiver know that you value the business relationship and would like to remain in the forefront of his thoughts for future business transactions. Additionally, they show you are tentative to details and you follow through on tasks, which are useful and important business traits.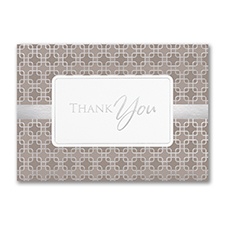 Consider the Significance of Sending Note Cards
The preparation of business thank you note cards is a common courtesy and etiquette practice that is too often overlooked. Most businessmen are accumulated to saying thanks in person at the end of an event, but preparing and sending unique notes is far too often determined to be unnecessary. This miscalculation can, and often does, cause a company to lose out on potential new business relationships, since a significant part of a thank you is to reiterate the business' willingness and ability to perform, show enthusiasm for a possible collaboration, and solidify the relationship.