graduations are educational milestones to be celebrated and acknowledged for all school graduates with discount 99¢ announcements and invitations
Affordable 99¢ Graduation Announcement Invitation Cards for All Graduating Milestones
What an exciting time graduation is for everyone. For the parents and graduates, trying to decide if they need personalized discounted 99¢ graduation announcements or printable graduation invitations is high on their list, and tackling the sometime frightening thought of creating your own announcement invitation wordings for your graduation cards. We at invitationsbyu.com are excited about offering our own exclusive line of graduating announcement cards and graduate invitation stationery designs for all graduating milestones, budgets, and tastes, all guaranteed to impress even the toughest critic. We provide assistance with all aspects of your graduating stationary including those often dreaded invitations announcements wordings, sayings, and verses. Not only do we have the largest database of graduation wording samples, but our knowledgeable and helpful experts are standing by to help with your graduate announcement etiquette questions over the phone or by emails.
Current Special Promo of All Exclusive Announcements and Invitation Cards for Graduations Discounted to 99¢ Subject to Change Without Notice
Find Your Graduating Milestone Below for Largest, Discounted, and Most Popular Announcement Invitation Designs
With our slight nudge and sample words, you'll definitely be able to create the ideal verses for those graduation announcements invitations most suited for your style. Our popular graduating invitations announcements are an ideal way to share your great achievement with family and friends. Our inexpensive graduation stationery cards offer a small glimpse into your educational milestone accomplishments and will delight everyone who receives them. From the most trendy, stylish, and popular designs to the more traditional graduation invitations, you have our guarantee that we have something for everyone.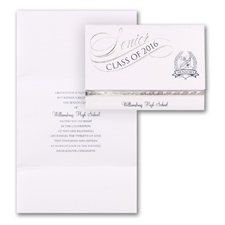 If it's not your graduation, but know someone who is and will needing school graduate stationery, why not start with us at invitationbyu.com? We have a large inventory of school graduating stationery help you celebrate in style. From our pesonalizeable graduation party invitations and graduation announcement cards to thank you cards, we have it all to help you celebrate this significant educational milestone. Our 2012 graduation collection offers something unique for every type of graduate, including high school graduates, college graduates, and even kindergarten grads. We offer dozens of the most popular announcement for graduation, which are designed to of all individual's budget and style. All our stationery is discounted and can be purchase as low as 79? each, with large quantity purchase. And, don't forget our exciting variations of festive graduation party invitation cards for inviting everyone to join your the celebration.
We all know that graduations are educational milestones to be acknowledged and celebrated in people's lives. To get the word out, there are general two more popular means: announcing your graduation with announcement cards; and inviting family and friends with graduate invitation cards. Regardless of whether you've earned a certificate from pre-k or kindergarten, or a diploma from high school or above, we have just the stationery to match your particular occasion. While shopping with us, you'll find modern and classic announcements and creative designs to make your school grad announcements stand out with a graduate cap motif. Why not customize your card with a photo or picture in your cap and gown and personalize it in your school colors for an added touch.
begin replacement here
view a sampling of 2016 most exclusive and unique announcement and invitation cards designs by graduation milestones
Wise Ole Owl 8th Grade Graduation Announcement and Invitation Cards

Path From Middle to High School Graduation Announcements Invitations

Caps Galore Junior High School Graduation Announcement Invitation

Architecture Protractor Graduation Announcements Invitations

Architectural Skyline School Graduation Announcement Invitation

Architect School Graduate Announcement and Invitations

Junior College Class Graduation Invitation Announcements

College Announcements for School Graduation

Graduation Cap University Announcement Invitation Cards

Hairdresser Graduation Announcement Invitation Designs

Cosmetologist Scissor Hair Stylist Graduation Announcements

Beauty School Graduation Announcements and Invitations for Cosmetology

Criminal Justice – Police Academy – Law Enforcement - Criminology

Scales of Justice Graduation Criminal Justice Announcement

Police Academy Scales of Justice Announcements for Graduation

Criminology Crime Scene Graduation Announcement Invitation

Culinary Graduation Cooking School Announcement Invites

Culinary School Graduation Announcement Invitation with Cooking Utensils

Chef Spoon Mixer Culinary School Graduation Announcements

Dental School – Endodontist – Orthodontics – Dental Assistant Hygienist

Dental Hygienic Graduation Announcement Invitation

Dental Coat Announcements Invitations for D.D.S. Graduates

Dental Assistant Graduation Announcements Invitations

High School Graduate Announcement Invitations

Reflection High School Announcement Invitation for Graduation

Hats Invitations Announcements for High School Graduations

Homeschooler Graduation Hats Announcement Cards

Homeschooled Graduation Ladder Announcements

Home School Graduate Announcement Cards

Law School Graduation Announcements Invitations

Paralegal Scales Of Justice Graduating Announcements Invites

Justice Scales Legal Assistant Graduating Invitation Announcement

Medical School – Medical Assistant – Paramedic – Physician Assistant

Medical School Doctor M.D. Graduation Announcements

Graduation Medical Assistant Announcement Invitation Cards

Physician Assistant Graduation Invitations and Announcements

Nursing School R.N LPN - Nurse Pinning Ceremony – Nurse Practitioner

Nurse R.N. Graduation School Announcement Cards

Nursing Pinning Ceremony Invitations for Nurses

Nurse Cap L.P.N. Graduation Announcement Invitations

Optometry – Ophthalmology – Eye Doctor – Ophthalmic Technician

Optometry Graduation Eye Announcements Invitations

Ophthalmology Graduation Eye Exam Announcements

Optometry Assistant Graduation Announcement Invitation

Graduation Party Invitation Cards

Open House Come and Go Graduation Party Invites

Graduate Party Invitation Cards for Graduations

Pharmacy Rx School Graduation Announcement Invitation

New Pharmacy Graduate Announcement Invitation

Pharmacy Assistant School Graduate Rx Announcement Invitation

Photo – Picture – Photograph Graduation Announcements Invitations

Polka Dots Kindergarten Preschool Photo Graduation Announcement

Graduation Photo Announcement Invitation Cards

Photo Announcement Invitation for All Graduation Milestones

Physical Therapist Graduation Announcement Invitation

Occupational Therapy Graduate Announcement Invitation

Physical Therapy Assistant Chair Graduation Announcement

Pre-K Graduation Announcements Invitations for Little Tot

Kindergarten Little Tyke Graduation Announcement Invitation

Graduation Announcements for Little Preschooler and Kindergartener

Doctor of Veterinary Medicine D.V.M. Graduation Announcements

Veterinarian Sick Dog Announcement for Graduations

Graduation Announcement Cards for Veterinary Assistant

Specialized School Graduations for GED – Trade Schools – Voc-Tech

Special Education Graduate Announcement Invitation

G.E.D. Graduation Announcements for General Educational Development

Office Management Gradation Invitation Announcement Cards
and, find entire collections of popular, trendy, stylish, and discounted 2016 graduation announcements and invitation cards for your particular graduating milestone by clicking the link above
We invite you to shop with us for your announcements and invitations stationery, where you will find our widely popular same day printing and shipping, along with our 100% guarantee policy. When your daughter or son achieves each graduation milestone, it's truly a proud moment. From preschool, kindergarten, homeschool, high school, college, and all other specialty graduations, we have the most ideal and colorful invitations and announcements for all school grads to match their personality. Our traditional announcements incorporate the school colors, and we maintain an extensive range of colors to complement your embellished graduate announcements. Our modern invites include lots of the grad's favorite colors. There is no longer a reason to limit or restrict yourself to just one style of school stationery cards, since we offer lots of options for your stylish and trendy announcing cards and invites.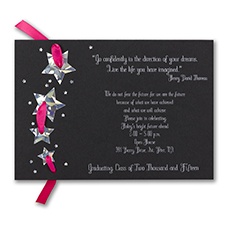 Including the grad's school photograph truly ensure your announcements are truly and offers a different, yet fun alternative. Although most select their graduating photos, you may select any of your favorite recent pictures. Gaining in popularity is the use of multiple photos that afford a bit of reminiscing by using younger mixed in with the recent pictures. What family member would not enjoy seeing how much your child has grown and changed over the years? Plus, these make really great keepsakes for framing and placing on your desk at work or maybe even on the fireplace. When your young boy or girl graduates, it's a tangible reminder that you have done your job as a parent, by molding them into mature adults and assisting them with reaching their accomplishments.
For the most expressive and affordable graduation announcements invitations online, look no further than invitationsbyu.com. Our collection of announcement cards is ideal for announcing your graduation, and our imprintable school graduate invitations are ideal for inviting your guest to the ceremony. Congratulations to all grads!!!