cutomize your 99¢ announcements for all graduation milestones and find help with graduation announcement etiquette
Creating 99¢ Graduation Announcements While Remembering Announcement Etiquette for Graduations
As graduation season is approaching, it is time to begin thinking about creating your stylish custom and discounted 99¢ graduation announcements. However, before getting started, you will need to know a few of the graduation announcement etiquette guidelines and suggestions, regardless of the educational milestone you are completing. Since most schools have limited seating, you will have only a certain number of guest you can invite to your graduating ceremony. Therefore, one of the first steps in your school graduating etiquette is how to inform those whom you cannot send an invitation, and why. By doing this with your announcements for school graduation, you avoid a lot of hard feelings. We, at InvitationsByU.com, offer a large database of really appropriate graduation announcement wordings sayings verse samples for your exclusive use.
Select Your Particular School Graduation Announcements Occasion Below:
View a Sampling of Graduation Announcement Designs for all Graduating Milestone
Graduation Wise Ole Owl PreSchool Announcements

Kindergarten Graduation Photo Polka Dots Announcement Cards

Little Tot Graduation Tyke Announcements

8th Grade Graduation Hats Galore Announcements

Middle School Path to High School Graduation Announcements

Graduation Hats and Tassels Jr High School Announcement Cards

Homeschool Graduation Caps Announcements for Homeschooled Grads

Natural Style High School Announcement for Graduations

Graduation Reflection High School Announcement Cards

Nurse Graduation School Announcing Cards

Nursing Graduate Cap Announcement Cards

Nursing Pinning Ceremony Announcements for New Nurse Graduates

College – University, Graduation Party, & Open House Party for Graduates

College University Class Graduate Announcement Cards

Party Announcements with Photo for School Graduations

Graduate Open House Announcement Cards with Caps

Architect, Dentist, Law School, Medical School, Pharmacy Rx, Veterinary, & Other Professional Degrees

Law School Graduation Announcements for New Lawyer

Medical School Graduation Announcements for New Doctor with Caduceus

Pharmacy Rx Graduate Announcements for New Pharmacist

Cosmetology, Culinary Cooking, GED, Trade School, Vocational, & Other Specialty Graduations

Cosmetology Beauty School Graduation Announcements for Hair Stylist

Culinary School Graduation Announcements Card for New Chef Graduates

GED Graduation Announcements for New General Educational Development Grads

Classy Graduation Appreciation Photo Thank You Note Cards

Thank You Graduation Note Cards for Graduates

Photo and Graduation Hat Thank You Note Card
and, find hundreds more trendy, stylish, and popular invitation announcement cards for your graduation milestone by clicking the link
Timetable for Mailing Your Embellished Graduation Announcement Cards
Unlike those all-important graduate invitations that are sent to invite your guests to the ceremony, expressive graduating announcements are an excellent way of announcing your graduation to family and friends. Generally, these can be mailed either before or after the ceremony, thus allowing a four to six week range. However, there are exceptions to this date range, one is when there is a party celebration for those who were not invited to the ceremony. In situations like this, you should allow four to six weeks advance notice of the party.
How to Handle Graduation Gifts and Thank You Cards
You should never mention 'gifts' in your announcing cards or invites, but that will not prevent your family and friends from sending you an appropriate gift. In anticipation of this, you should order your matching graduation thank you cards to send to all those who sent you a gift or attended your graduating ceremony. These thank you notes should be written and mailed within two weeks of the event or when the gift was received. You'll definitely want to make your thank yous personal, mentioning the gift and how you intend to use it. If money was sent, be sure and write what you'll be doing with it.
Being Neat and Through with Your Announcement Graduation Cards is a Must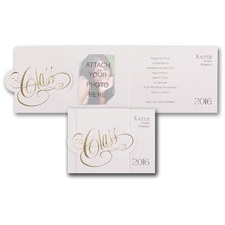 While creating your announcing cards and envelopes, it's ok to be a bit more informal in your style, format, and wordings, unlike your invites. For instance, there's simple no reason to think, 'black tie' type formalities where you should use black ink and avoid abbreviations. In fact, this is not necessary to write out the street, road, and other parts of the address that can be abbreviated. For those who have a designation such as Doctor, you can simply use, Dr. while addressing your envelope, and you can address your relatives with 'aunt', 'uncle', and so on.
Help With Your Announcement Wordings and Sayings for Graduation
Although many people sometimes get a little apprehensive with the thought of creating the wording and saying for their announcements, we help make this daunting task easier with our large collection of wording ideas and saying suggestions.
By breaking it down between the essential elements and the optional words, your tasks become much more manageable. For the essentials, you'll need to include the date of the graduation, the degree received, and the school. What you never want to include is any mention of gifts. That's always a big NO! NO! Any other words, verses, or sayings are strictly optional.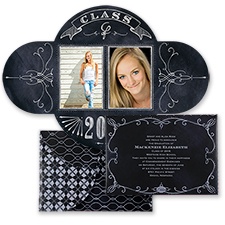 But, a word of caution here! In the unlikely event something goes awry with your graduation, then neither invites nor announcing cards should be sent out. This is one of the many reasons for waiting until a four to six week window before mailing them out. By these dates, the student should be totally aware of any problems that could come up that delay his graduation.
Select From Largest Collection of Most Popular Graduation Announcements
As you browse our exclusive selection of graduate announcement cards, you'll find the most stylish and trendy designs found anywhere, either online or at retail stores. And, after settling on your perfect announcement design, you have full access to our patented personalize and instant preview features that enable you to add your own wordings, typestyles, fonts, and ink color, and then preview it in real time. In addition to these customizing features, all cards are significantly discounted, and we always have lots of special promotions throughout our site. With all the advantages available at InvitationsByU, you're assured of getting the best quality graduation announcements at the most affordable prices. And, don't forget our same day print and ship guarantee.
Graduation is a huge occasion and we have an amazing selection of graduation announcements to help you celebrate the event. Fully customizable and printed in the colors and designs of your choice, these announcements will definitely spread your joy to your family, friends and loved ones.