Graduation Invitation and Announcement Etiquette Suggestions
Following Acceptable Graduation Etiquette for Graduating Announcements and Graduate Invitations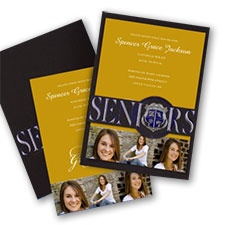 Following generally accepted graduation etiquette is certainly something you will want to be knowledgeable and mindful of since it an excellent means for extending acts of courtesy to all those in which you send graduate announcements invitations to. There are established announcements graduate etiquette practices and customs that you can stick to so that you can ensure your invitation announcement stationery cards are timeliness. Basically, invitations graduating etiquette consists of formalities or suggestions that assist or guide you in getting your graduate stationary to guests in a timely manner so they can respond to your invite announcing cards. For help with your school grad wording, saying, verses, and quotes, visit our large database for suggestions.
View Some Sample of Graduation Announcement and Invitation Designs for all Graduating Milestones
Graduation Wise Ole Owl PreSchool Announcements and Invitations

Kindergarten Graduation Photo Polka Dots Announcement Invitation Cards

Little Tot Graduation Tyke Invitations and Announcements

8th Grade Graduation Hats Galore Announcement Cards & Invitations

Middle School Path to High School Graduation Announcing Cards & Invitations

Graduation Hats and Tassels Jr High School Invitation Announcement Cards

Homeschool Graduation Caps Announcements Invitation Cards for Homeschooled Grads

Natural Style High School Photo Announcement Invitation for Graduations

Graduation Reflection High School Invitations Announcement Cards

Nurse Graduation School Invitation and Announcement Cards

Nursing Graduate Cap Announcement Invitation Cards

Nursing Pinning Ceremony Invitations for New Nurse Graduates

College – University, Graduation Party, & Open House Party for Graduates

College University Class Graduate Announcement Invite Cards

Party Invitations with Photo for All School Graduation Ceremonies

Graduate Open House Announcement Invitation Cards with Caps

Architect, Dentist, Law School, Medical School, Pharmacy Rx, Veterinary, & Other Professional Degrees

Law School Graduation Announcements & Invitations for New Lawyer

Medical School Graduation Announcement Invitations for New Doctor with Caduceus

Pharmacy Rx Graduate Announcement Cards & Invitations for New Pharmacist

Beauty School, Cosmology, GED, Trade School, Vocational, & Other Specialty Graduations

Cosmetology Beauty School Graduation Announcement & Invites for Hair Stylist

Culinary School Graduation Announcements Invitation Card for New Chef Graduates

GED Graduation Invitations & Announcements for New General Educational Development Grads

Classy Graduation Photo Appreciation Thank You Note Cards

Thank You Graduation Cap & Scroll Note Cards for Graduates

Photo Graduation Cap Thank You Note Card
and, find many more stylish, creative, trendy, and popular invites and announcing cards for your graduation milestone by clicking the link
Announcements Graduation Etiquette for Announcing Your Accomplishment - As a soon to be graduate, you'll be participating in an official and memorable commencement ceremony. And, it's quite common for the number of tickets each student is provided is restricted, so you'll need to decide as to who you will give the tickets to so they can attend the event. For those who you are unable to invite to the ceremony, for whatever reason, it is appropriate to send graduation announcements with all the details announcing your successful complete of this particular educational milestone. You can even consider inviting those who could not attend, for whatever reason, to an after commencement party. Regardless of which of these options you choose, we have hundreds of really creative and appropriate school graduating designs to choose from.
Invitations Graduation Etiquette Options – School grad invites are used to extend an invitation to the commencement and after party. As you are ordering these two different sets of invites, you'll certainly want to ensure you keep the two mailing lists separately. After all, you don't want guests showing up at the commencement where there is not seating.
And, of course, while ordering invites and announcing cards, it's always a good idea to order you school graduate thank you cards, which you're certain to need. These note cards will need to be written to say thanks to those who gave gifts or attended one or more of your special events. Our special promos like 10 free cards, free shipping, same day print and ship, store wide discounted cards, your proof within one hours and more ensure you cost is as low as possible.
InvitationsByU.com offers a large collection of quality and exclusive invitations announcements stationery school cards, all of which help you in remaining polite, respectful, and courteous as you stick to suggested graduation etiquette.