customized 99¢ invitations for graduation are used to invite guests to your graduating ceremony and to your graduate party celebrations
Read the Do's and Don'ts for 99¢ Graduation Invitations and Invitation Etiquette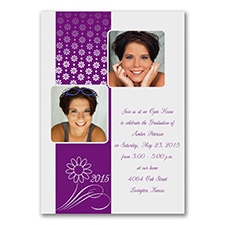 Everyone knows that graduating is a very significant educational milestone and accomplishment in a person's life, and is a time for the proud graduates and their parents to share the news with friends and family members. As you are preparing your graduation invitations list, you'll quickly discover that, due to the school's seating capacity, you'll likely be unable to invite all those on your list. So, when you cannot send discounted 99¢ graduating invites to everyone whom you would like to share the event, you will need to apply the basic principles of suggested graduation etiquette to reduce the confusion and stress. But for those you will send them to, we invite you to review our extensive collection of graduating invitation wording, saying, and verse samples. These suggestions may be used in part or in whole, or simply as potential ideas for you to use your own words and sayings.
Choose Just the Right School Graduation Invitation Cards Occasion Below:
Find lots of Sample Graduation Invitation Designs for all Graduating Milestones
Graduation Wise Ole Owl PreSchool Invitations

Kindergarten Graduation Photo Polka Dots Invitations Cards

Little Tot Graduation Tyke Invitation Cards

8th Grade Graduation Hats Galore Invitations

Middle School Path to High School Graduation Invitation Cards

Graduation Hats and Tassels Jr High School Invitations

Homeschool Graduation Caps Invitations for Homeschooled Grads

Natural Style High School Invitation for Graduations

Graduation Reflection High School Invitations Card

Nurse Graduation School Invitations Announcing Cards

Nursing Graduate Cap Invite Cards

Nursing Pinning Ceremony Invitations for New Nurse Graduates

College – University, Graduation Party, & Open House Party for Graduates

College University Class Graduate Invitations Cards

Party Invitations with Photo for School Graduations

Graduate Open House Invitation Cards with Caps

Architect, Dentist, Law School, Medical School, Pharmacy Rx, Veterinary, & Other Professional Degrees

Law School Graduation Invitations for New Lawyer

Medical School Graduation Invitation for New Doctor with Caduceus

Pharmacy Rx Graduate Invitations for New Pharmacist

Beauty School, Cosmology, GED, Trade School, Vocational, & Other Specialty Graduations

Cosmetology Beauty School Graduation Invitation for Hair Stylist

Culinary School Graduation Invitations Card for New Chef Graduates

GED Graduation Invitation for New General Educational Development Grads

Classy Graduation Photo Thank You Appreciation Note Cards

Thank You Graduation Note Cards for New Graduates

Photo Graduation Hat Thank You Note Card
and, find oh so many more popular, stylish, and trendy cards for your graduation announcement invitation by clicking the link
When are Graduation Invitations NOT an Invitation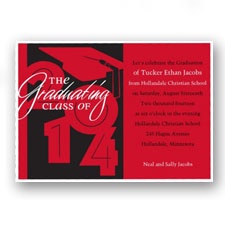 Some people are under the assumption that there are no differences between a graduation announcements and an invitation for graduation, but that is incorrect. An invite should not be used as an announcement card. Due to limited seating, most schools will issue tickets or provided instructions informing you as to how many guests you can invite to the commencement ceremony. And, since there are fewer seats available than needed, the graduates typically invite their immediate family and very close friends. The other extended family members and friends typically are sent school graduate announcements about the upcoming event.
Buying Invitations for Graduation From the School vs. Buying From InvitationsByU.com
Most schools provide their graduating students with information about ordering invitation announcement stationery from a select vendor. However, more and more students are choosing to buy from the internet at websites like InvitationsByU.com than purchasing from the recommended vendor. Their decisions are based on two factors: Cost and Variety of Choices available. When purchasing from the school vendor, all invitation cards are the same with no unique features or characteristics, other than the name. But, with InvitationsByU, you can choose from a guaranteed unique image, add your own wordings, and even add your school photo, all at a price usually considerably cheaper than the school's vendor.
Meanings of Many of the Graduate Invitation Designs and Images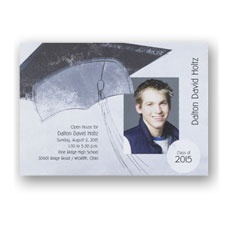 The images and designs that appear on our invites are much more than decorations. They have lots of meaning and history behind them. For example, the turning of your tassel on your graduation cap signifies completion. Your cap and gown, although now scholastic in nature, has religious significance that dates back to the 13th century in England, when the custom of wearing them is thought to have originated. A Globe in an invite represents an expanded worldview and is commonly used symbols. The popular and often used phrase 'pomp and circumstance' refers to a series of marching songs reportedly written by Sir Edward Elgar and was first performed in England on October 19, 1901.
To Mention or Not to Mention - That Oh So Secretive Word – 'GIFTS'?
There are some etiquette experts that advise against adding the words "No gifts please" to an invitation announcement. And, although grads might think it is an appropriate way to let those receiving the invites know that they are not soliciting gifts, the experts suggest that the phrase is more often than not interpreted and used to really say, 'cash only, please'. Therefore, it is advisable to simply make no mention of gifts to prevent any possible confusion or misunderstanding. After all, those who plan to give you a gift will likely do so, regardless of the wordings in your announcement invitation stationery cards.
Time Frame for Completing and Mailing Invitation Cards for Graduates
Your embellished invitation cards to attend the school commencement should be completed, ordered, received, and mailed four to six weeks prior to the ceremony. If you are also ordering announcements and thank you graduation cards, it is suggested you order those at the same time, and they can be mailed anytime before or after the commencement ceremonies. And, as a general rule of a thumb, graduating announcements should only be sent to those who have know you well enough to know of your upcoming event. Or, said a little more plainly, sending announcing cards to casual acquaintances is a definite no-no and frowned upon.
We bring you a huge selection of designs of graduation invitations to help celebrate the occasion with your family, friends and loved ones in style. Go ahead and let us know your favorite workings and layout and we'll do the rest. You will have an amazingly beautiful set of invites in no time.