rely on gigantic database of totally creative, unique, and popular graduation wording ideas and samples and discount 99¢ cards
Enjoy Free Graduation Wordings Samples and Ideas for Your 99¢ Announcements Invitations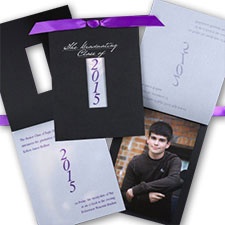 A graduation ceremony is not just your ordinary celebration! In the U.S., each educational milestone completed has some type of graduating ceremony for the students. And, since this particular graduation will come but once in a lifetime, the graduate and his family should remember and cherish it forever. You'll want those memories safely stashed so that at any time in the future you can recall those momentous occasion with nostalgia and pride. We at InvitationsByU assist in the planning of your graduating celebrations which includes inviting your loved ones to the ceremony and / or the party with disounted 99¢ graduation invitations announcements and following it up with thank you graduation thank cards. Further more, we offer lots of assistance with the wordings, sayings, and verses by offering the largest database of announcement invitation saying, wording, and verse samples for graduations.
Click on the Type Graduation Wordings for School Graduating Announcement Invitation Cards
View Some Sample Graduation Announcement & Invitation Designs for all Graduating Milestones
Graduation Wise Ole Owl PreSchool Announcements and Invitations

Kindergarten Graduation Photo Polka Dots Announcement Invitation Cards

Little Tot Graduation Tyke Invitation and Announcements

8th Grade Graduation Hats Galore Announcements and Invitation Cards

Middle School Path to High School Graduation Announcement Invitations

Graduation Hats and Tassels Jr High School Announcements Invitation Cards

Homeschool Graduation Caps Announcement Cards for Homeschooled Grads

Natural Style High School Photo Invitation and Announcements for Graduations

Graduation Reflection High School Cap Announcement Invitation Cards

Nurse Graduation School Announcing & Invitation Cards

Nursing Graduate Cap Invitation Announcement Cards

Nursing Pinning Ceremony Invitation for New Nurse Graduates

College – University, Graduation Party, & Open House Party for Graduates

College University Class Graduate Announcement Invitation Cards

Party Invitations with Photo for School Graduations

Graduate Open House Invitation Cards with Caps

Architect, Dentist, Law School, Medical School, Pharmacy Rx, Veterinary, & Other Professional Degrees

Law School Graduation Announcements & Invitations for New Lawyer

Medical School Graduation Invitation & Announcements for New Doctor with Caduceus

Pharmacy Rx Graduate Announcement Invitation Cards for New Pharmacist

Beauty School, Cosmology, GED, Trade School, Vocational, & Other Specialty Graduations

Cosmetology Beauty School Graduation Announcements & Invites for Hair Stylist

Culinary School Graduation Announcements Invite Cards for New Chef Graduates

GED Graduation Announcement & Invite for New General Educational Development Grads

Classy Appreciation Graduation Photo Thank You Note Cards

Cap and Scroll Thank You Graduation Cards for Graduates

Photo Graduation Hat Thank You Note Card
and, find many more trendy, creative, stylish, and popular invitations and announcements for your graduation milestone by clicking the link
Soaking it All In – Enjoying the Moment!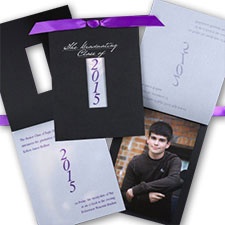 Everyone, particularly the graduate and his parents, is eagerly awaiting the graduating ceremony. This wait includes the donning of those unique graduation robes and the tossing of the hats for that oh so perfect picture. And, even though the new graduate knows that this ceremony puts him across one threshold and upon the border of another, which is the whole new world. But, this new threshold holds no border – no limits – only opportunities and lots of potential. But, back to the here and now, as the nostalgia, the decisions, and the questions will follow. Right now, let the grads simply live in the moment and soak it all in.
Deciding the Type School Graduating Wording, Verse, Saying Needed
As you begin thinking about your words, sayings, and verses for graduation invites announcing cards, it might seem a bit daunting and overwhelming. What should and should not be included? You definitely want to convey your emotions and thoughts for the occasion in just the right way, in the right tone, and the proper message. Ok, having defined what you want to do, then the next decision is deciding the type stationery card you are going to be sending: invitation or announcement; milestone you are graduation from; and circumstances. After all, each will have totally different words and expressions. Your wordings for college will be different from high school; preschool and kindergarten will be different from junior high school and middle school; and nursing will be different from say law school and medical school graduates.
Formal vs. Informal Graduate Words, Sayings, and Verses
Although we have an extensive collection of complete sayings, verses, and wordings in our database, we will include a few summaries here for your review. Generally, it is advisable to keep them fairly formal. For college and university, you might write something like: 'We are proud to announce that on the tenth of June, year two thousand and fifteen, our son, Thomas Spencer Thompson, graduated from ABC University'. Now, although this example is formal and proper verses, it doesn't mean you must use that style. It is also acceptable to write something like: June 10th is her big day, come help her celebrate, and send her on her way.' This style is much more formal and can be used for practically any educational level, including kindergarten and preschool. This more informal manner conveys that the graduate is moving on into the 'real world' while, at the same time, keeps the tone and mood light.
Creating More Unique and Original Wordings for High School Graduates
Those high school card words will be a little different as the avenues available to them is really endless where they will be facing something new in their lives. High school graduation invitations wordings verses sayings might be something like: 'She's about to leave for another school, She's all ready wth all her tools, Commencement is done, So now let's have some fun!' This example is best used for a party celebration, but it can be easily modified for an invite. And, for those announcements for high school, you might choose to say something like, 'Your High School Name Here is proud to announce that Kathleen Hatley Higgins graduated with top honors on June 10, 20xx'.
Being Genuine, Honest, and Sincere With Your Expressions
Whatever tone is chosen for your specific graduation announcements invitations wordings, sayings, or verses, it is important to ensure that the feelings expressed through the words are personal, genuine, and reflect the personality of the graduate. It is perfectly acceptable if you want to include a famous or favorite poem, quote, or verse. In fact, simply asking the graduate if there is any particular poem, quote, or verse that they would like added can be the best way to ensure it is totally unique and from the graduate.