Invitations Etiquette for Oktoberfest, Christmas, Halloween, Mardi Gras and All Other Holidays
Proper Holiday Invitations Etiquette for Halloween, Mardi Gras, Christmas, Oktobefest and More
Feeling comfortable and confident about holiday invitation etiquette is a topic we all want to be kept abreast of, since it's the one subject that usually is most neglected. And, as such, most holiday party planners can become quite intimidated unless they read our dos and don'ts before ordering and mailing their festive holiday party invitations stationery cards. Believe it or not, there are some hostesses who simply panic when they even hear the word 'etiquette'. But, truthfully, holiday stationery etiquette is really nothing to get too worked up over, especially when you are ordering your invite stationery from us at InvitationsByU.com. With our popular and patented instant preview features, you can ensure your cards include all the appropriate information needed. Plus, we maintain the largest database of holiday invitation wording, saying, quote, and verse ideas online to assist with your total invite personalization.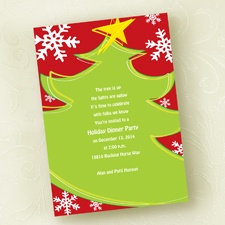 Helpful Holiday Invitation Etiquette for Abbreviations – Our creative features, you can add your own festive holiday invitation wording. As you add your words to the unique design you selected, you'll definitely want to be mindful that you should avoid the use of abbreviations, and that you should spell out titles like 'Doctor' and 'Professor'. However, it is acceptable to use standard abbreviations like Mrs., Mr., Jr., and Ms. Just remember that with all types of stationary addressing, it is always proper to list the husband's title before that of his wife, including your printed holiday thank you note cards.
Must Know Holiday Stationery Etiquette with Mailing – First, and foremost, always ensure you have enough invites so that everyone you want to invite is sent one. This is one of the many reasons we offer special promos like 10 free cards, where you can add an additional 10 cards totally free, with minimum quantity purchases. As a rule, everyone over the age of 18 should get an invite if you want them to attend your even. However, if you are on a tight budget, it is acceptable to send a single invitation to all members of a single household. Just simply add the words, 'and family' in the address. Again, our free cards and free shipping make it possible for you to receive just a few extra invites. With these, you'll always have a few on hand if you think of more people you want to include in your celebration.
Rely on us for the latest and most appropriate guidelines of holiday invitation etiquette.