find your ideal way to express your appreciation and thanks during the holidays with our creative and unique holiday thank you note cards
Customize Your Holiday Thank You Cards Online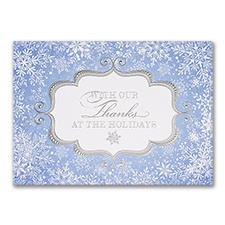 Personalized holiday thank you cards are an ideal means of expressing your appreciate to those in your life during the holidays. With a beautiful and printed thank you holiday card, you can let people know that you are thinking about them during this very special time of year, and you can tell them that you really care about all that they have done for your during the past year. Creative thank yous are ideal for all the holidays including Christmas when you'll probably host both small, rather intimate gatherings and larger parties, or following Mardi Gras after you just had a festive, merry event. For assistance with your thank you holiday note card wordings, sayings, and verses just visit our large database of samples.
Select the Type Thank You Holiday Note Cards for Instant Viewing
Creative Customized Holiday Thank You Cards – We all know that Holidays are all about fun, joy, excitement, and sharing time with family friends and other people you care about. Whether you are seeking this thank yous for Christmas, Halloween, Mardi Gras, Thanksgiving, Easter, Christmas, or any other associated sentiments you want to share, you'll find lots of exclusive designs and creations in our gigantic collection. Our stationery is printed out on white, 80 pound, Avon Crest, acid and lignin free paper products that guarantee invitation wording and images in full, spectacular, and festive colors.
Embellishing Your Thank You Holiday Card – For those who like flowery, cursive fonts or bold and brazen scripts, we're the place to shop. And, what about soft pastel colors or perhaps you have an eye for rich, brilliant hues. After settling on your chosen exclusive image, using our patented customize and real time preview options, you can modify both the ink color and fonts in a few simple steps. And, what about some truly seasonal and holiday related images on your stationary? That's No problem either with us at InvitationsByU cause we can certainly add those too. After you have totally personalized your printable stationery, be sure and take advantage of our 10 free note cards special along with lots of other everyday promos.
You'll come off as an appreciative host when you send colorful and imaginative holiday thank you cards exclusively from www.InvitationsByU.com.