Etiquette for Moving Announcements and Housewarming Party Invitations
Find Lots of Help With Your Moving and Housewarming Etiquette Questions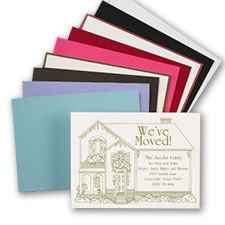 There are lots of reasons why people move including the need for a larger or smaller house, new job, new experience, or perhaps it's a business promotion that involves moving to another location. Regardless of your reasons or motivations, observing suggested moving etiquette when preparing and sending your custom moving announcements is always important. Likewise, for your new house, you'll definitely want to have a housewarming party to celebrate your newfound domesticity. As you are creating your house warming invitations, just like the move announcing cards, your party invitations should include proper consideration for housewarming party etiquette guidelines. And, we offer lots of moving and housewarming wording samples to use in your cards.
Why Send a Moving Announcement Card?
Personal and customized moving announcements are typically sent to family members and friends to share your new contact information. It's also an excellent occasion to renew contacts with those people whom you might have lost contact with and would have no way of knowing of your relocating. Often times, receiving your uniquely worded moving announcement will prompt those old acquaintances to contact you and offer their congratulation on your move.
Differences in Personal and Business Announcements to Move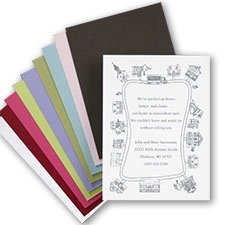 For business moving announcements, they should be sent to customers / clients – both new and old, vendors, and certain family members and friends. You need to be mindful that these move announcements, while being informative and necessary, will also serve as a nice promotion for your business.
Deciding on the Details to Include
For those all important family moving announcement cards, you'll want to include: your name; new address; new telephone number, if changed; expected move date if mailed before you move; and email address. For your company announcing cards, it should certainly include: your business logo and tagline; new contact information; and a map with directions. If your relocation is in a prime location closer to your clients, then be sure and note this in your business announcement.
Must Know Etiquette for Announcing Your Move
Ideally, your move announcements should be mailed as close to your move date as possible, either just before or immediately afterwards. If you put them in the mail too early and your plans change, you will have to waste a great deal of time explaining the situation on the phone. An example of how this could happen is if you sign an agreement to buy a new house, and afterwards find there are lots of major structural issues and are forced to cancel the contract, you will be glad that you had not already mail your announcements.
Etiquette for Business, Company, or Corporate Announcements for Moving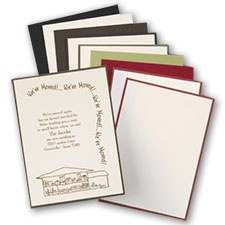 Customized company moving announcements are a bit differently. First, you'll definitely want to ensure your announcements are completed and mailed at least two weeks before to your move date. However, if the date is near a holiday, you'll want to send them out a bit earlier to allow for the holiday. Your customers / clients need to know where your business is, so if you wait until after you've moved, you could find some upset or angry people after they journeyed to your old office only to find it empty. In the event you plan to close for a day or more during the move, you should definitely add that on the announcement. Plus, depending on the nature of your business, you might want to provide emergency contact information.
Remembering the Suggested Housewarming Party Invitation Etiquette
It is totally appropriate to throw yourself a house warming party, but you will want to take special precautions in your housewarming invitation wording so that it is perfectly clear that you are not seeking gifts. This etiquette requirement is almost an absolute rule and should be followed as it is inappropriate to mention gifts on a party invitation, not even when you use such phrases as, 'no gifts please'. It is usually considered in bad taste to add phrases such as 'no children allowed'. If you prefer that no children attend, then it is better to call those who you think might bring a child.
Details to Include in Your House Warming Invitations
Your personalized invitations can include a variety of details, but those most often added are: the purpose of the party; guest of honor; day, date, time, and address; those hosting the event; and an RSVP. Your party invites should be mailed with four to six weeks of the event date. If your house will need some fixing up or renovating, you might want to hold off scheduling your celebration until you know for sure when your new house will be ready for the grand tours.
Otherwise, it's highly possible, some say likely, that your renovations could run behind schedule and cause all kinds of problems for you. If you plan to serve lunch or dinner, you'll definitely want to include this detail in your party invitation; otherwise, your guests will probably assume there will be the customary cocktails, finger foods, and light desserts and will eat before coming.
There are endless ways add your house warming invitation wordings, so take a look at our large collection of invitations and announcements wording samples. By following these simple, yet important, etiquette suggestions and guidelines you are assured of a smooth transition from one place to another and won't leave anyone behind.