Etiquette for Party Invitations
Be Confident With Your Party Invitations Etiquette – Lots of Suggestions and Guidelines
All to often, in today's hectic world, it seems we all need a refresher course with Mrs. Post and our social etiquette skills, or lack thereof. But, unfortunately, those days of finishing schools are a thing of the past, but the continuing need for etiquette is not. Our world of today is so fast paced, we all tend to forget, but hope to be forgiven, our party invitations etiquette. But, before we write social etiquette skills off entirely, fortunately, it appears that such these type manners are making a come back.
Finding Unique Party Invitations and Wordings
It has been said that 'Manners are a keen awareness of the feelings of others, and for those who have this awareness, you are using good manners, regardless of the fork you use'. Simply stated, it is the sensitive awareness that we all need to work on a bit more. Our large collection of unique party invitation cards and complementing invitation wording ideas and samples for parties are all here for your consideration.
What are Your Party Invitation Obligations?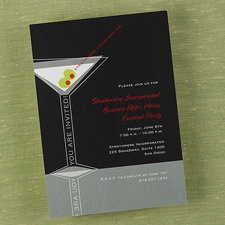 Invitations to parties come in many different forms and substance. An invitation to a formal event is one that is printed on quality paper. These type invites should never by handwritten but, rather printed on quality card stock with raised letters by professional printers – never from your home computer. Informal invitation cards are less formal, for themed parties, may be printed on your home computer, but not recommended, and with no raised lettering. Although you might be late with your party invites, it is never acceptable to send them electronically via emails, social media, texting, or other similar methods. Your invites to a party should be received with the same positive intentions of kindness as those that are being extended by the person sending them.
Helpful Party RSVP Etiquette
We all know that a person receiving the invitation is under not obligation to accept it, there are certain rules, guidelines, and suggestions to you should be mindful of and adhere to:
always reply in a timely manner to the RSVP or Regrets request;
If you do not plan to attend, reply courteously with remarks like, 'thanks for inviting us, but unfortunately we other commitments'. You should never respond that you will be attending another event or will be out of town.
If you plan to accept the invitation, then you must attend. There are just a few acceptable reasons for a change like death in the family, illness, or an unanticipated and sudden out of town trip.
Thank You Party Cards Etiquette
Expressing your gratitude and thanks to the hostess is an absolute necessity. In fact, your thanks should be expressed at least twice. It is always appropriate to thank your host during the event, and also follow it up with a personal and sincere party thank you card. And, although not a requirement, a small gift to the hostess is always appreciated and a nice gesture. These are just common courtesies requiring very little effort or work.