Invitation Etiquette for Baptism, Christening, Bar Mitzvah, Communion
Help With Religious Invitations Etiquette for Baptism, Christening, Mitzvah, Communion, and More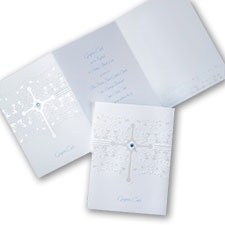 Regardless of the religion a person chooses to be a part of, there will be lots of special events in his religious life, ceremonies and celebrations that will necessitate various types of religious invitation and announcement stationery. Baptisms, Mitzvahs, Christenings, Communions, Confirmations, Dedications, and more are all a regular part of many religious traditions. It is, of course, imperative that your family, friends, and other loved ones be there to witness and enjoy these ceremonies. So, the best way to ensure this happens is to create, customize and mail unique religious invitations. However, you'll definitely want to ensure you follow suggested and accepted religious invitation etiquette guidelines for all religious occasions, and this is where we help. We invite you to view, by type, lots of details about the most popular and agreed upon invitation etiquette for all type religion occasions below.
Click on the Type Religious Invitations Announcements Stationery Etiquette Below
Ensuring Your Baptism Invitation Etiquette is Appreciated - If you have received really unique Baptism invitations to a sacred religious Baptism ceremony, you might have questions such as: what are you expected to do; what happens during the event; and should a gift be brought, and if so, what is an appropriate gift. To help ensure you're current on the suggested invitations etiquette for Baptism, our creative designs and etiquette experts offer their suggestions that are sure to help you feel comfortable during the event and as a respectful guest.
Christening Ceremony and Celebrations Invitations Etiquette Planning - Christenings are an exciting and happy, yet solemn, religion occasion. In Christianity, a Christening is the universal initiation rite that involves the pouring of water over the head of the person who is being Christening, usually a baby, infant, or young child. For the parents, this custom is a way to inspire basic principles and values based on religious teachings to their child. It is a significant and certainly an important religion occasion for all the family members and close friends. Usually, there is a celebration following the ceremony, so your embellished Christening invitation etiquette cards should include details if there is a party after the event.
Easy Ordering of Your Bat and Bar Mitzvah Invitations and Wording Idea Samples – All those of the Jewish faith know how very special a Mitzvah ceremony is for a Jewish teenage girl or boy. As there are little differences between the Bat Mitzvah celebrations and the Bar Mitzvah ceremonies, the usage of terms and terminology are usually the same and often referred to as simply a Mitzvah. There's a great deal of planning that goes into this very popular Jewish ceremony and celebration, so the host will want to ensure the guests enjoy and appreciate all the activities. For these reasons, and more, you'll want to ensure your Mitzvah invitation cards etiquette is followed when creating your Bar Bat Mitzvah invites and wordings for Mitzvah celebrations.
First Communion Ceremony and Celebration Invitation Etiquette – Holy 1st Communion ceremonies usually vary a great deal and often times include First Holy Communion as well as a religious Confirmation and more, depending on the religion faith practiced by those sponsoring the person. With all of these ceremonies and celebrations, children, who are within a certain age, always receive the necessary instructions for the Sacrament of Communion for the first time. This is a very significant religious event in anyone's life and can be celebrated in lots of different ways by families and groups. Therefore, it's not only appropriate, but recommended, to create customized 1st Holy Communion invitations to those you want to share the experience with. And, you can rely on our etiquette suggestions for Communion invite wordings.
Help With Your Invitation Wordings Etiquette for Religious Confirmation - A Confirmation is the Christian rite of anyone to make their commitment to the church after being introduced to it through a Baptism. For those a bit unsure as to exactly what a Confirmation is, it might best be described as the relationship to a Confirmation and Baptism is like the Baptism is accepting a proposal for marriage, while the Confirmation is the actual wedding. A religious Confirmation is most always celebrated with family members and friends, and, according to recommended Confirmation invitations etiquette, your embellished invitation wordings should be more formal than the invitation wordings of a casual party.
Etiquette for Dedication Invitation Wordings are Certain to be Appreciated – For parents who are planning to raise their child according to church teaching, they usually dedicate their child by affirming their commitment in a public ceremony. The Dedication, usually an infant, baby or young child, is a religious ceremony where the parents make a commitment and promise before God, the church, and those present to raise their child in the ways and beliefs of their religion. It is the opportunity, publicly, for the parents to declare their intentions to set a godly example for their child and to instill and teach religious ideals and beliefs. And, friends and family are usually invited with creative by following etiquette wordings for religious Dedication invitations.