Etiquette Guide for Thank You Note Cards
Your Once Source for Thank You Note Cards Etiquette for Express Your Gratitude and Appreciation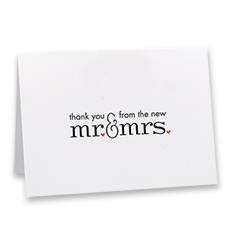 The old fashion letter writing of yesterday seems to be a thing of the past, even though, according to experts like Emily Post it was once thought that the letter you craft is always a mirror that reflects your taste, appearance, and character. For personal thank you cards, this becoming especially true. After all, a personally authored thank you is eminently tasteful, as it conveys your sincere appreciation and gratitude. Anyone who receives them knows how much appreciation this thoughtful gesture fosters. For these reasons, and more, we at InvitationsByU.com offer a variety of unique thank you note cards and complementary thank you card wording samples suitable for all occasions.
Find Your Particular Thank You Note Card Below
Considering Thank You Card Etiquette for Selecting Your Note Cards
One of the best ways to create a habit of writing thank you cards and notes is to always have a pack of blank cards on hand. These might be classic designs that are also suitable and ideal for individual taste – more or less a one card fits all approach. For these reasons, we offer a wide variety of stationery note cards for any of life's special occasions, from anniversaries to weddings and all occasions in between. And, you'll definitely want to keep a roll of postage stamps to prevent any possible delays. And for those who are really serious etiquette writing, you might consider keeping a special calligraphy pen so that your thank you notes will be as chic and stylish as your wordings.
Wording Your Thank You Notes – Suggestions for What to Write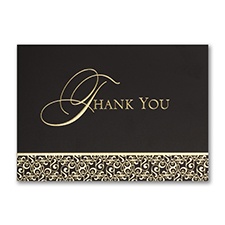 As you begin crafting your words of appreciation, you'll definitely want to mention the kindness of the gesture extended, along with your genuine appreciation. You'll also want to include sufficient details to help you to express those sentiments best. For gifts, include a sentence or two about the gift will be used, or how you're likely to think of the gift giver each time you see it. Dinner party thank yous should thank the hostess of a fun and tasty dinner party and emphasis how much you enjoyed a particular dish or how interesting the conversation was during the course of the evening. By all means - be personal and not too formal or stiff. After all, a thank you card is much more successful when it is heartfelt and warm.
Best Time for Sending Your Thank Yous
Ideally, you should create and mail your notes as soon as possible after the event, gift was received, or good deed was done, but certainly within two weeks. If you have lots of them to write and send out, then more time is certainly allowable. For example, weddings in which several hundred gifts were given, can take up to a couple of months to write, and that is acceptable, according to good etiquette for thank yous. However, regardless of the time that has lapsed, send them out, as the old statement, "better late than never' certainly applies here.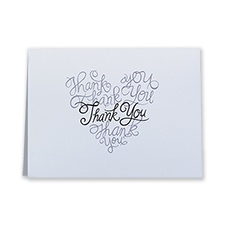 Suggested Etiquette for Addressing Those Receiving Your Notes
Close friends and family members may be addressed by their first names in the salutation inside the card, 'Dear Sid and Sarah', but should have their formal designation written on the envelope, 'Mr. and Mrs. Sidney Porter' or 'Mr. Sidney Porter and Ms. Sarah Porter'; for signing off, just write your first name. For all the others, it is more appropriate to continue to use courtesy titles, 'Dear Mr. Porter' or 'Dear Ms. Porter', and to include your full name when signing off. And, you'll definitely want to avoid all unnecessary abbreviations, particularly on the envelope, 'Doctor', 'Avenue', 'New York', 'And' and more, with 'Mr.' and 'Ms.' or 'Mrs.' as the exception. When unsure, you should always err on the side of caution.