select from creative designs, vibrant color, and appreciative wordings for Christmas, Halloween, Mardi Gras, Oktoberfest and New Year's Day thank you note cards
Say Thanks with Unique, Colorful, and Printable Holiday Thank You Note Cards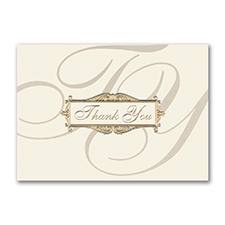 Holidays are among the biggest reasons for sending personalized thank you note cards. They are the most ideal means for showing people that you remembered them, appreciated their gift or their contributions to your holiday party or other celebration. If you buy your thank you note cards in the local retail store, you will likely spend lots more than you would if you ordered online from us at InvitationsByU.com. Large quantity purchases are not only more affordable but they provide uniformity to what you're giving to your friends and families. Additionally, we offer our exclusive and patented customize holiday thank you note cards with instant preview features along with the largest selection of totally unique and appropriate thank you card wording ideas and samples for the holidays.
Select Your Creative Thank You Holiday Note Cards for Instant Viewing
Since these are our Premium Invitations, Announcements, Cards and will need more time, the following policies for all our other Cards will NOT apply:
Same Day Printing & Shipping
Free 10 Cards
Proof submitted within ONE hour during working hours
Free Shipping
We help ensure that your thank you note cards for the holidays reflect purpose of the occasion your personality. Our dedicated and hands-on customer care representatives assist you with your choices of design, color, and content. You can choose from our vast collection of exclusive creations for Christmas, Halloween, Mardi Gras, Oktoberfest and New Year's Day thank you styles. If you want the quirky and funny thank yous for Halloween, we offer lots of different borders designs and images that can be imprinted. Or consider the classic and traditional Christmas pictures of fireplaces, snowmen, and Christmas trees creations complemented by your own favorite Christmas wordings, sayings, and verses.
You can get the most discounted and affordable quality thank you holiday cards for your Thanksgiving dinner, St. Patrick's Day party and Easter Egg Hunt. We have an elite collection of designs that are simply waiting for your own individual wordings to be complete. Of course, you have total and complete rein on designing your own. We also maintain beautiful stationery note cards after merriments like family and business picnics and family reunions and for eclectic gatherings like Cinco de Mayo, Mardi Gras and Oktoberfest parties.
Unlike other holiday stationery companies, we are always mindful of the diverse cultural festivities. So whether you will be imprinting an image of a piñata on your Cinco de Mayo thank you, a large float for your mini-Mardi Gras party appreciation card, or a huge mug of beer for your Oktoberfest thank yous, we have several images for your perusal. Even better is our patented online real time preview options where you can review your chosen handy work to your card in a matter of seconds, all before you order. And we can even have your proof ready within One hour, along with free shipping, 10 free cards, and same day printing and shipping.
Consider adding your family photo on the front of any of our note cards to make it truly your own. To love ones, there is nothing better than receiving colorful and beautiful thank you Christmas cards for all the love they have given during the holidays. We make shopping for holidays thank you cards enjoyable, easy, affordable, and totally stress-free experience. Our knowledgeable and friendly staff is available to answer all your questions, and we offer a toll-free number and email for fast and easy ordering.
You may order via phone, fax, or email. And, of course, you always have the option of instantly previewing the thank you card that he have customized online. And, if you need your holiday stationery sent to you in a rush, no worry, as we offer same day print and ship on all orders. We are a unique and dynamic e-commerce company that will solve all your thank you note cards for holidays for the whole year round, and provide you lots of choices for thank you card wording ideas for the holidays.