creating your unique invitation wordings for your wedding should include all the basic details, plus excitement and joy of your pending nuptials
Find Lots of Wedding Invitations Wordings - Your Guide for the Ideal Marriage Wordings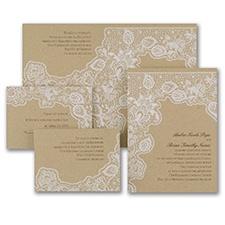 As you are creating your imaginative wedding invitations wording ideas, you want to ensure they convey, not just the basic marriage details and the timing of your ceremony, but also your total excitement and joy of your pending nuptials. After all, you have chosen someone significant enough to spend the rest of your life with, so, naturally, you want everyone you know and care about to witness the day that you take your vows with your chosen partner for this life. Your wording ideas for wedding invitations samples at InvitationsByU.com are thoughtfully displayed to you can reflect the true happiness you have found. Our samplings enable you to be totally creative with your wedding invitation cards words.
View Gigantic Samples of Exclusive Wedding Invitations Wordings, Sayings, and Verses
Take a Look at a Sampling of Stylish Invitation Designs for Bridal Parties and Wedding Ceremony and Celebrations
Bridal Shower Graceful Lace Invitations 25 for $96.00

Celebrating Marriage Announcement Card 100 for $239.90

Vintage Pearls and Lace Wedding Invitation Cards100 for $299¢.90

Bachelorette Heart Dots Party Invitation 25 $96.00

Bridesmaid Bachelorette Party Invitation Cards discounted to 99¢ with quantity

Vintage Bachelorette Woodgrain Love Party Invites 100 for $129.90

Damask Dress Invitation for Bridal Shower Party 100 for $134.90

Wedding Dress Bridal Party Invitations discounted to 99¢ with quantity

Jar of Flowers Bridal Shower Invites 100 for $134.90

Engagement Bubbly Cheers Party Invitations 25 for $96.00

Engagement Party Invitation Announcement discounted to 99¢ with quantity

Hearts in the Sand Engagement Announcement Invitation 20 for $49.00

Vision of Love Marriage Wedding Announcement 100 for $358.90

Shimmer Wedding Marriage Announcement Card 100 for $474.00

Wedding Birds on a Vine Marriage Announcing Card 100 for $129.90

Rehearsal Dinner Night Before Bubbly Invitations 25 for $96.00

Rehearsal Dinner Stylish Invitation discounted to 99¢ with quantity

Rehearsal Big Night Before Dinner Party Invite 25 for $96.00

Shower Invitation for Bridal Party Celebrations

Bridal Shower Bliss White Invitation Cards 20 for $49.00

Purple Posies Invitations for Shower Party 100 for $134.90

Thank You Bride Shower Note Cards 25 for $11.90

Simply Kathleen Wedding Thank You Notes 100 for $124.90

Photo Wedding Bride Thank You Card 100 for $125.90

Stylish Wedding Invitation Cards by Simply Kathleen 100 for $665.90

Love Story Premium Wedding Invites 100 for $1040.90

Putt'n on the Glitz Wedding Invitations 100 for $703.90

Lacy Burlap Wedding Photo Invitation 100 for $234.90

Wedding Vintage Swirls Photo Invitations 100 for $154.90

Photo Wedding Frame of Flowers Invitation Cards 100 for $234.90

Wording Samples & Ideas for Bridal Showers, Weddings, & Thank You Notes
find more stylish and trendy bride invitation designs for all bridal shower party and wedding ceremony by clicking on your special occasion above
Loving Expressions and Wedding Invitations Wording Ideas – As you are placing your order, remember that you can always add your very own words to your custom invitations. Your enhancement of your stationery wordings can be expressions of romance and love. And, a growing trend is to use a part or all of famous quotes as 'A flower cannot blossom without sunshine, and man cannot live without love' or George Elliot's 'Blessed is the influence of one true, loving human soul on another' to list just a couple of examples. And, we also have lots of matching wedding thank you note cards with sample sayings and verses.
Popular Wording Ideas for Wedding Invitations Modifications – You'll definitely want to let your loving expressions complement the card embellishments on your stationery. We sell lots of romantic marriage designs, and all can be adapted using our patented customize and real time preview options. Plus, you can always add a picture, photographs, or romantic looking graphics to your invitation stationery cards, too. You can choose stunning colors and elegant fonts to make your message leap right off the page. So why wouldn't anyone want to see their personalized message before checking out with our real time preview advantages and options.
Our large database of sample of ideas for wordings is guaranteed to be helpful in your efforts to find memorable wedding invitations wording ideas.