you'll want to honor your 8th grade graduate with 99¢ announcements for announcing his graduating achievements and inviting close relatives and friends to the ceremony
Wording Samples for Middle School, 8th Grade, and Jr High Graduation 99¢ Announcements Invitations
Parents of graduates who have graduated from the 8th grade, middle school, or junior high school will want to ensure they buy the most unique and appropriate discounted 99¢ graduation announcements and invitations for 8th grade, middle school and jr high school to highlight this very significant educational milestone. Since your grad has worked long and hard toward finishing middle school, eighth grade, or junior high, you'll certainly want to honor him and his accomplishments by announcing his graduating achievements and inviting close relatives and friends to the ceremony. Your custom announcement invitation stationery cards can be customized to be very eye-catching, appealing, persuasive, and expressive, all at the same time. And, along with our totally exclusive and creative designs, we invite you to use our large collection of free invitation announcement wording samples for eighth grade, jr high, or middle school graduations.
Current Promotion for All Exclusive Junior High, Middle School, and 8th Grade Graduation Announcements Invitations Discounted to 99¢ Subject to Change Without Notice
Find 8th Grade, Middle School, and Junior High School Graduation Wording Samples Below Cards
Today we learn,
Tomorrow we lead . . .
Please join us as

Janie Rene Porter

graduates from
Roselawn Middle School to High School

(add graduating details)
A stepping stone to higher learning
A bridge over the education river
Middle School has come to an end

Please join us as our daughter,

Janie Rene Porter

graduates from
Roselawn Middle School

(add graduating details)
The honor of your presence is requested
Saturday, the thirteenth of June
Two thousand and (year)
in honor of

Janice Marie Porter's

Middle School Graduation

(add graduating details)
Please join us as we celebrate the
8th Grade Graduation of our son,

Wayne Harris Porter

from Trenton Middle School

(add graduating details)
Dr. and Mrs. Sidney W. Porter
announce that our son,

Sidney Wayne Porter, II

has graduated from
North St. Louis Junior High School

Please join us at a dinner party to celebrate

(add graduating details)
Junior high school is a time of yearning
for what's ahead and what's left behind.
Neither child nor adult,
unrestrained with love and fear combined.
Now that we must leave, we have the pleasure
of moving one step nearer to who we are,
knowing they are equal.

Please join us for the
graduation of our son,

Thomas Harry Porter

(add graduating details)
8th grade was such a blast
a time to remember and
friendships that will last

We're moving up to high school
and preparing for college
Before you know
it we'll be filled with
an abundance of knowledge

Please join us in honor of

Karen Elise Porter

(add graduating details)
The years have flown by
and so has our son,
right before our eyes

It is with great pride
that we announce the
Junior High School Graduation
of our son,

Thomas Harry Porter

from White Canyon Academy

Tommy will be attending
Jefferson High School in September

(add graduating details)
Our little boy is almost all grown up
In books he's been around the world
and seen many sites
He made it through Middle School
without putting up much of a fight

Please join us for

Harry Wayne Porter's

Middle School Graduation

(add graduating details)
With a toss of a hat
and a scroll in hand
the Graduate has infinite possibilities
to succeed throughout the land

Let's congratulate and
extend our best wishes to

Harry Wayne Porter

as the newest graduate of
Lexington Park Middle School

(add graduating details)
There is no greater joy than
watching your child achieve
an educational milestone in his life

Please join us at our home
for a Graduation Party to honor

Blake Harry Edwards

(add graduating details)
Graduation is a time to kick back
and call on family and friends
It's time to celebrate
because Johnny's 8th grade
has finally come to an end!

Mr. and Mrs. Sidney Porter
are proud to announce that

Johnny Wayne Porter

is graduating from
Eagle Middle School

(add graduating details)
It seems like only yesterday
my little girl was starting preschool.
Now she has grown into a beautiful young
woman graduating from middle school.

Please join me to celebrate the
8th Grade Graduation of

Alyssa Porter

and to wish her well on her journey through high school.

Sunday, June 14, 2015 3pm to 7pm
The Porter Home
Street Address
City, State, Zip


RSVP by May 30th 267 767-8291
There is no greater joy than
watching your child achieve
an education milestone in his life

We are proud to announce
the graduation of the
Your School Name Here

8th Grade Class

Please join us for the
celebration ceremony
Friday, June 10th
10:00 a.m. - 12:00 noon
Your School Assembly Center

RSVP by June 1st to
joan@abc.com or 555.456.7894
"A hundred years from now
it will not matter
what my bank account was,
the sort of house I lived in,
or the kind of car I drove.
But the world may be a better place
because I made a difference in
the life of a child."
- Forest Witcraft


Thank YOU
for making a difference in
the life of our Son!!

We invite you to share with us as
Tommy James Porter
graduates from
All Saints Catholic Middle School
5555 Main Street
Your City, State

Saturday, June 7, 20xx
5:30 p.m.

Reception following at
St. Thomas Youth Activity Center
Street Address, City, State

Please RSVP to
555.555.5555 or
youremail@email.com
Selecting Just the Right 8th Grade Announcements Invitations Wordings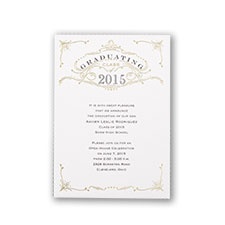 As you begin your shopping journey you quickly discover that you have lots of choices and considerations regarding the quality pf 8th grade graduate stationery cards for your teen, plus trying to decide on the best and most effective wordings. And, we understand that one of your mains concerns is the affordability of the cards available to you. But, we want to remind you that there are many other considerations to think about, such as available designs, the quality of the card stock used for printing, and the choices for graduation invitation announcement wording. You'll find help with all these concerns with us as we offer very inexpensive, and, in fact, discounted announcement invitation cards as well as lots of other helpful features to assist you in totally customizing the stationery you like most.
Wording Your Middle School and Junior High School Cards
Graduates from middle school will be thrilled about their advancement to high school, and that involves lots of life changes like getting their driver's license, going to proms, and lots more. Celebrating with middle school graduation invitations to family and friends lets the graduate know not to only focus on what's ahead of him, but to also savor the times and enjoy his current achievements. After preparing and wording your invites, they should be mailed four to six weeks before the actual event. You should also be prepared for those invitees who cannot attend will usually send a gift or, at a minimum, as their congratulations upon receiving the graduate invitation from middle school and to wish him well.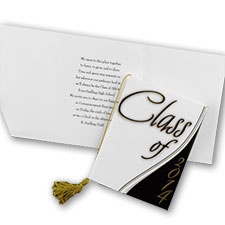 Embellishing Your Junior High, 8th Grade, and Middle School Graduate Announcement Invitation Wording
Your graduation announcement cards can contain, not just event information, but details about your grad's academic successes too. By adding your own unique and personal wordings, quotes, and sayings, you can let family members and friends know about any special awards and honors your child received. You'll also use our customer friendly and easy to use 'upload a photo' feature that make it so easy for you to share a photo of your proud student, beaming with pride. And, perhaps best of all, you have use of our exclusive and patented personalize and real time preview features before you check out and pay. All these added options ensure that there simply are no surprises when your unique and customized stationery arrives.
And, for Those Oh, So Special Junior High School Grads Moving Up to Senior High
With junior high school graduates, the important thing is to choose announcing cards and invites for their graduation that they will be proud of. As the leader in junior high graduate invitation announcement stationery designs, you will certainly to find just the right stationary image for your purpose and theme, along with suggested wordings for each. And, after choosing your design, you will want to ensure it includes all the necessary details of your gradation, if an announcement, or celebration data, if an invitation to the ceremony or celebrations.
While visiting our site, we invite you to take advantage of all of our everyday special promos like 10 free graduation announcement invitation cards for 8th grade, jr high, and middle school, along with the sample graduation wording ideas and samples on each.