A bachelorette party is an occasions for the future bride to participate and enjoy one of her last hurrahs with her girl pals
Find Lots of Help With Your Bachelorette Party Invitation Wordings Guaranteed to Impress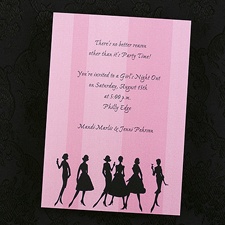 A bachelorette party is an occasions for the bride-to-be to participate and enjoy one of her last hurrahs with her girl pals. And, at first though, you have visions of those far way and famous parties in Las Vegas, New York, Montreal, Miami, or other distant cities, the most popular types, by far, are the local bachelorette parties, equipped with party favors, games, and sometimes even a party bus limo. And, if you are the one chosen to organize and plan your close friend's special party celebration, you'll want to handle all the details, including sending customized bachelorette party invitation cards to all your invited guests in a timely manner. And, while ordering the invites, don't forget those all-important thank you cards the guest of honor will most certainly need. You can find lots of ideas and samples for your bachelorette party invitation wording in our large database.
Bachelorette Party Invitation Sayings, Verses, and Wording Samples
We're having a party and
it's going to be hot!
So we're serving something cool
to really hit the spot...

Please join us at a
Bachelorette Party
for

Ansley Osteen

June 21st at 9:00 p.m.
at The Oasis
Save the date and write it down
For the grandest celebration
this side of town

Girls, grab your heels
Wave goodbye to your guys
with a glorious smile
and join us for a
Bachelorette Party Weekend
before Sara
takes that long walk down the aisle
After we shower Choloe
with lingerie and kinky treats
We're having a Bachelorette Party
that's kind of unique
We'll meet at the Spa
drink, laugh and have fun
No one's going home until
Choloe says, "We're done!"
Ladies!

We're planning a
Bachelorette Party
for Shea on
Saturday, April 15th

It's sure to be one you simply can't miss
A party with drinks and spicy food.
It will surely help Shea
get in the right mood
It's time to for the girls
to mix and mingle
These are her last days
for the bride to be single
Time is ticking and
the bells will soon chime
Let's get out and get crazy
while there is still time!
Come walk the lighted strip
or on the tables place a bet
It's Teresa's last party weekend
as a Bachelorette!
Come join Trish
and dance the night away
Before she walks down the aisle
on her wedding day!

Girl's Night Out
She found the right man
we heard the great news
They're setting a date
to say their "I do's!"
Lingerie will be the theme
for the afternoon
Bring something she'll need
on her honeymoon
A Girls night out
is what she needs
We'll shower her with gifts
from gowns to beads
One last night to be
free and single
Let's take Laurie out
for one last mingle
Take a Look at Fabulous and Discounted Party Invite Design Samples for Bachelorette Celebrations
Bachelorette Heart Dots Party Invitation 25 $96.00

Bridesmaid Bachelorette Party Invitation Cards discounted to 79¢ with quantity

Vintage Bachelorette Woodgrain Love Party Invites 100 for $129.90
And, for lots more popular and trendy bachelorette party invitation styles and designs,

CLICK HERE