invitation wordings for bride and wedding celebrations can become just a wee bit easier by relying on help from wording samples provided
Find Lots of Sample Bridal Shower Party and Wedding Invitations Wordings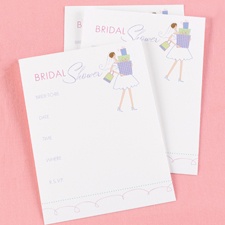 Creating eye catching bridal shower wordings, for some, is really a struggle to develop imaginative invite words bride invitation stationery cards. For others, wedding invitation wording is a wee bit easier to create. For these varieties, we at InvitationsByU.com understand that not every bride will immediately know how to create sayings and words or how to be creative with verses and quotes on bridal wedding invitation cards. That's why we offer a large collection of free samples for you exclusive use, and we have professional artists and designers at the ready to offer artistic advice and assistance too. After all, hosting bridal showers can be exciting, and, at the same time, stressful.
Click on the Type Bridal Shower Party Invitation Wording You are Looking For Below
Review a Sampling of the Most Popular and Discounted Bride Shower Invitations and Wedding Ceremony and Celebration Invitation Cards
Bridal Shower Graceful Lace Invitations 25 for $96.00

Celebrating Marriage Announcement Card 100 for $239.90

Vintage Pearls and Lace Wedding Invitation Cards100 for $279.90

Bachelorette Heart Dots Party Invitation 25 $96.00

Bridesmaid Bachelorette Party Invitation Cards discounted to 79¢ with quantity

Vintage Bachelorette Woodgrain Love Party Invites 100 for $129.90

Damask Dress Invitation for Bridal Shower Party 100 for $134.90

Wedding Dress Bridal Party Invitations discounted to 79¢ with quantity

Jar of Flowers Bridal Shower Invites 100 for $134.90

Engagement Bubbly Cheers Party Invitations 25 for $96.00

Engagement Party Invitation Announcement discounted to 79¢ with quantity

Hearts in the Sand Engagement Announcement Invitation 20 for $49.00

Vision of Love Marriage Wedding Announcement 100 for $358.90

Shimmer Wedding Marriage Announcement Card 100 for $474.00

Wedding Birds on a Vine Marriage Announcing Card 100 for $129.90

Rehearsal Dinner Night Before Bubbly Invitations 25 for $96.00

Rehearsal Dinner Stylish Invitation discounted to 79¢ with quantity

Rehearsal Big Night Before Dinner Party Invite 25 for $96.00

Shower Invitation for Bridal Party Celebrations

Bridal Shower Bliss White Invitation Cards 20 for $49.00

Purple Posies Invitations for Shower Party 100 for $134.90

Thank You Bride Shower Note Cards 25 for $11.90

Simply Kathleen Wedding Thank You Notes 100 for $124.90

Photo Wedding Bride Thank You Card 100 for $125.90

Stylish Wedding Invitation Cards by Simply Kathleen 100 for $665.90

Love Story Premium Wedding Invites 100 for $1040.90

Putt'n on the Glitz Wedding Invitations 100 for $703.90

Lacy Burlap Wedding Photo Invitation 100 for $234.90

Wedding Vintage Swirls Photo Invitations 100 for $154.90

Photo Wedding Frame of Flowers Invitation Cards 100 for $234.90

Wording Samples & Ideas for Bridal Showers, Weddings, & Thank You Notes
for even more affordable and creative party invitation designs for all bridal showers and wedding ceremony invitation cards, click on your special occasion above
Popular Bridal Shower Wordings and What to Include - When your attention turns to how you want to word bride invites, your biggest, and perhaps first, concern should making sure you include all of the information that is needed. Much of what you should include is fairly standard for party invite stationary, such as location venue, date, and time. As you can imagine, without these details, you're probably not going to get many guests to show up or, at best, you'll end up with lots of confused guests calling you with questions. But moving forward, there's no reason to get so caught up in the rest of the text that you leave out these details.
You'll also want to remember to be as specific as possible. For example, if you are meeting at a well-known place for the party, but you have more than one location of that place in the city, you should be sure and specify which one it will be. For example, "Meet at the Big Restaurant on Highway 65 near InvitationsByU." The more specific and details you provide about the meeting place the less likely it will be that people will end up somewhere else by mistake.
Another note worthy addition is the name(s) of the person/people hosting the event. In this case, that would be you and perhaps the other bridesmaids. You can include this data at the start of the invite. For example, "Ali and Page Cordially Invite You to a Bridal Shower in Honor of Cindy Moore." Or, you can also add this data at the end, rather than the beginning. For example, at the bottom you could write "Wedding Bridal Shower hosted by Ail and Page."
In addition to the details suggested above, you also will want to include the RSVP information. Guests should know how and when to contact you know if they are attending and how to reach you with any questions they might have. And, finally, it is acceptable to include the gift registry information, which can easily be printed directly on the shower bride invitation. You'll want to ensure you order your printable bridal and wedding thank you cards.
Other Bridal Wedding Shower Invitation Wording Extras - While all of the ideas present thus far are fairly mandatory, there are other optional additions you can make. For example, if your planned event is going to be casual you easily add a short and perhaps funny poem indicating this. For more formal events, you could add famous quotes about love or lines from other appropriate poems. And, your text could and should include any specific instructions, such as if it is a surprise for the bride, then you'll definitely want to mention this in the invite wordings. And, one more example of special items that might be included is if a specific type of gift should be purchased in keeping with the theme.
Colors and Wedding Invitation Wording - All of our bride stationery is available on 80 pound, Avon Crest white card stock paper. You can color coordinate your expressions to match the colors in your wedding too. For example, if you're having a formal affair in the evening and have chosen red and black as your main marriage theme, you can have your fonts printed in black or red ink colors. You can make your invites even more expressive by taking advantage of our sophisticated fonts, which you can modify and instantly preview your work in real time after each modification.
So, regardless of the type shower party you are having, be sure your bridal wedding invitation wording includes all the necessary details we suggested.