in business, thank yous are sent for many reasons, like thanking a customer for his business, future business collaborations and more
Professional Company and Business Thank You Card Wording Ideas and Samples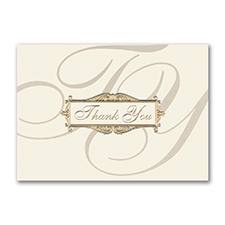 As you are showing your business' appreciation to a customer by sending a custom business company thank you card, you will want to remember that business thank you note etiquette for a business is really just a continuation of common etiquette used by everyone. Creating your own unique business thank you card wordings, sayings, and verses for thank yous are considerate gestures from the sender to the recipient that expresses gratitude. In the business environment, company thank you cards are sent for lots of reasons, including a meeting to discuss future business collaboration or after an introductory meeting.
Adding Popular Thank You Card Wordings for Business is Usually Right Thing to Do
Although, there might be a few business owners and managers who do not expect or even appreciate a personally worded thank you note, those are certainly in the minority. Besides, since you might not know for sure, it is far better to err on the side of courtesy and good manners by sending them. By personalizing the words on your note cards, you are showing your anticipation of doing business with the other company, and in today's very competitive business atmosphere, any and all advantages you gain are a benefit. Just remember, an appreciation card will definitely not harm your chances of getting the sale, and it could set you apart from your competitors.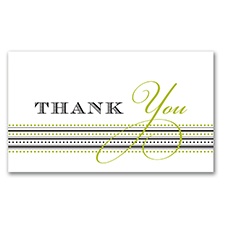 Wordings and Personalizing Your Company Thank You Note Cards
If you have only a few to thank you note cards send out, then it is recommended that you handwrite the wordings on your cards. However, for larger quantity, say over 50, then you might want to take advantage of our customized imprinting of your personal message on the inside of the cards for a small additional charge. The size of most note cards are 8½ x 5½ before folding and 4¼ x 5½ after folding either left to right or top to bottom, portrait or landscaped.
For personalizing and imprinting your words, sayings, or verses, we offer two alternatives:
(a) You can have the two words, 'thank you' printed, as shown on the front of most sample cards; or
(b) You can insert up to five words, such as the graduate's name and more, such as 'Thank You from Johnny Anderson', all at no additional cost.
Customizing Your Corporate Thank You Card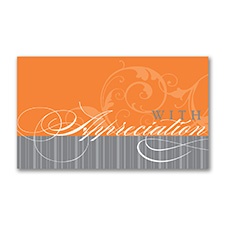 By using our features at InvitationsByU.com, you have access to our patented personalize and real time preview options where you can add a great deal more than the basic information, by including phrases, wordings, sayings, and verses, or adjusting the ink color, type style, and fonts. Once you get your particular details exactly as you want, simply click PREVIEW, and presto – your customized work in instantly added just as you wanted where the old sample wording was. These amazing features and options enable you to make any changes you want before placing your order.