it seems true that although kids look forward to their birthdays and and help creating children birthday party invitation wordings, it's the parents who really enjoy them
Ensure Your Children Birthday Invitation Wordings are Special and Appreciated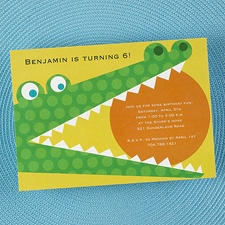 As children begin to reach certain ages, they begin to realize that their when their birthday rolls around, it's time for celebrating with lots of cake, ice cream, and presents! And, although the kids look forward to these dates, it's the parents who usually enjoy them just as much, if not more. All too often, these days are gone as are the celebrations, parties, and fun of our youngsters. For all these reason, you want to ensure each party is as special as you can make it, including creating totally unique kids birthday party invitations with equally impressive and original invitation wordings for children birthdays, shown below.
View Our Sample Birthday Invitation Wordings for Children Parties Below
It's official!
Dawn is scoring another birthday
To be part of the game plan
take time out and get the
backfield in motion
by meeting us at
Dawn's House

(date, time & party details)

Christie is 17
and we're throwing her a
Birthday Party
she'll never forget

There will be music, fun
and great food to eat
The party arrangements
are all set

So..... Please join us at
Christie's Birthday Bash

(date, time & party details)
Once in a lifetime
Jeffrey will turn 13!
Never again will
this age be seen

Please join us for
pizza and cake

(date, time & party details)

If you're in the mood to dance
here is your chance

Megan is turning 17
so skip into your jeans
or disco gear
sorry, there'll be no beer!

Please join us at
Megan's Birthday Party

(date, time & party details)
It would be really cool
for you to come to our pool

We'll flip and hop
or do belly flops

And have some fun
while we play in the sun

You are invited to
Jeff's 9th Birthday Party

(date, time & party details)
Bathing suits and sunshine
Come on in, the water's fine!

Let's make a splash
as we celebrate

Ryan's 5th Birthday

(date, time & party details)
Come get a kick out of
Johnny's Karate Birthday Party

We'll chop us some cake
and maybe even a board!

(date, time & party details)
One year ago a little angel
blessed our lives
We named her
Roseanne Kenzie

She's turning ONE
and we're celebrating with a
Birthday Party
so won't you come
and have lots of fun

(date, time & party details)
Can you believe it?
Michelle's first year is done
Please join us as we celebrate
her turning ONE

Please join us for
Michelle's First Birthday Party

(date, time & party details)
Dear Jenna's friends
help us say
Happy Birthday
at her
7th Birthday

(date, time & party details)
Ahoy Mateys
Hoist your anchors
and set sail
to celebrate
Larry's 5th Birthday

Come and join the fun
to find some treasures
along the way

(date, time & party details)
Our little girl, Susie,
is turning Four
Here's what we have
in store
Jumping, tumbling, bouncing and fun
Tumbling Gym is where to come

(date, time & party details)
Friends of the gym
have gathered to say...

Join us in celebrating
Connie's Birthday!

There will be lots of
cake, ice cream and playing too

The only thing
we need is you

(date, time & party details)
Bring your sleeping bag
and pillow too...
I'm having a sleepover
and I'm inviting you!

Bring your favorite tunes as
we'll dance the night away
Then try to stay up
'till the light of day

Elise's 11th
Slumber Birthday Party

(date, time & party details)
Once in a lifetime
does a girl turn 16
Never again will
this age be seen
I'm inviting you to
help make mine
An event that will last
forever in time

Kelsey's 16th Birthday Party
(date, time & party details)
Once upon a time
a little girl had a dream
to have a beautiful party
when she turned Sweet 16

To have a guest like you
there would be a delight
so please come join us for
Melissa's Magical Night

(date, time & party details)
It's Harrison's 7th Birthday
and he wants to jump and play!

We're having a party to celebrate
and bounce the day away!

(date, time & party details)
Pop goes the birthday child
It's Johnny's special day
so come and make him smile

(date, time & party details)
All Aboard the Party Train!
It's Brad's 4th Birthday!

We'll be chug a chugging
and cho chooing
till the train blows its whistle

Please join us for
Parker's Birthday Express

(date, time & party details)
Sample Children Birthday Party Invitation Design Samples for Kids of All Ages
and, for our entire gallery of birthday party invites for kids, click on the image shown above
Goody Bags for Children Birthday Parties – Are They a Must
Giving out goody bags of treats at children birthday parties has always been a tradition as long as kids have had celebrations like these. However, giving them out is not an absolute must as it depends on your party theme and style. Often times the most meaningful and memorable takeaway are the ones the guests have made, like sending them home with homemade cupcakes, muffins, or liners filled with balloons and candies.
Bring Other Sibling to the Party
For the younger kid's parties, a parent or caregiver is usually expected to stay during parties. In situations like these, younger kids include infants, toddlers, and up to preschool. Beyond these ages, it's a good idea to ask the host what she prefers. In situations like these, and if you have siblings to deal with, it's inappropriate to ask if you can bring them along. You should try and make other arrangements, but if you are unable to, you should call the hosts and ask if it would be acceptable if you dropped your child off instead of staying. This is an excellent opportunity for the host to say something like, 'Oh, why don't you just bring them with you'? This includes even a newborn confined to a baby sling.
Not Being Invited – Parents What to Do
There will likely be occasions when your child is not invited to a close friend's party for a number of reasons. It could be as simple as the birthday child is having only a family party, or perhaps a very small party or only inviting his soccer team friends, and so on. When this happens, you should validate your child's feelings of disappointment, and help him learn to understand that there will be times like this in life. In time, the pain and disappointment will disappear.
Invited to the Party, But Can't Attend – Do I Still Send a Gift?
Let's not lose sight of the event here. After all, it's not like a wedding invitation where the invitee is obligated to send a present regardless of whether or not he attends. For a kids birthday party, if you are unable to attend there is absolutely no reason to send a gift. However, you can certainly do so if he is the child of your best friend or someone who bought your child a gift, but it's certainly not required.