your 99¢ open house party invitations and free wording should emphasis that it is an everyone invited with starting and ending time; come at your leisure and enjoy the party
Ensure Your 99¢ Graduation Open House Party Invitations and Wordings are Appreciated
Everyone knows what exciting times a graduation brings, especially if it is your child's or your graduation! And, to celebrate this great educational milestone, a fun graduation party is usually planned, and one of the most favored variations is the graduation open house party. To get started, one of the first things you will need to do is visit our website, InvitationsByU.com, where you can locate, create, word, and mail your large discounted 99¢ open house gradation party invitation cards to those you want to attend your celebration. Generally, you will want to mail these invite cards four to six weeks in advance. Your creative open house invitation wordings should include certain basic elements such as the venue, date, time, date, guest of honor, and who is hosting the party.
Current Special Promo of All Exclusive Open House Graduation Party Invites Discounted to 99¢ Subject to Change Without Notice
Find entire collection of invitations for your special graduation open house party by CLICKING HERE
Browse Most Creative Open House Graduation Invitation Wordings, Sayings, and Verse Samples Below Cards
Shelia Anderson
will be hosting a
Graduation Party
for her daughter,

Renee Elise Anderson

(add graduating details)
The future belongs to us
We can make a difference
If we believe!

Jane and Mark Owens

cordially invites you to a
Graduation Open House
in honor of our son,

Bryan Christopher

(add graduating details)
Let's get together
and toast the Grads,
after four years plus
we're more than glad!

Accomplishments like this
deserve some praise,
so to the graduates,
our glasses we raise!

Join us for a Graduation Party
in honor of

Blake Planes

(add graduating details)
Celebrate... School is done!
Lookout world, here I come!

Please join in the celebration at
Becky's Open House Party

(add party details)
Please join us as we celebrate
the High School Graduation
of our daughter,

Elaine Thompson

at a Graduation Party

(add party details)
Toss out the confetti
Let the balloons fly high
Scoop up some glitter
and "Sparkle the Sky"
Graduation is near for one special girl
Merritt's life is all in a whirl!

Please join us for an
Open House Party honoring

Merritt Tidwell

(add party details)
Elizabeth and Lara
are graduating,
so we're celebrating!

Please join us for a
Graduation Party
given by their proud parents
Beth and Rusty Hill

(add party details)
Celebrate... School is done!
Lookout world, here I come!

Sandy Elise Porter

will graduate from
Oak Valley High School

Sandy's Open House Party

(add graduating party details)
Mr. and Mrs. Sidney Porter
cordially invite you to attend a
Graduation Party Celebration
for our daughter,

Rene Elise Porter

(add party details)
Sarah and Sidney Porter
cordially invite you to attend a
Graduation Party Celebration
for our daughter,

Rene Elise Porter

Friday, June 6th at 4:00 p.m.
Street, City, State

RSVP to Sarah 555.555.5555
or sarah@xyz.com
Consider These Benefits of an Open House Party for Graduates
The graduation open house party is rapidly becoming one of the rituals of graduating because of the tremendous flexibility of the hostess and the guests. This type event is an ideal way to celebrate your graduating accomplishments. It's an ideal time to invite all of your family members and friends to a special gathering to commemorate the significant achievements - your graduation. As you are deciding between a 'normal' graduation party and the rapidly gaining popular open house party, consider the advantages of each. The graduation open house is different from a graduation party in several ways. Consider these benefits of an open house graduating party:
An open house party is an 'everyone is invited' type graduating celebration, and are typically much more informal. You can send your personalized open house party invites to relatives, friends, neighbors, party hostess friends, parent's friends, and whomever. Put simply - the more the merrier!
You set the start and ending time, and your invited guests may come and go at any time within that range at their convenience. There is no reason for the guests to come at the beginning and stay until the end.
Your open house invites should be mailed separately from your graduation invitations or announcements and should be mailed four to six weeks in advance of your party. Although the guests are free to come and go at their discretion, you should include an RSVP to determine about how many guests to expect during the duration of your party.
Planning the Graduation Open House Type Celebration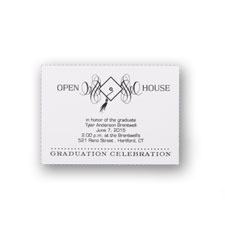 As you begin planning your event, it's a good idea to have a party theme even though the main purpose for the celebrations, the graduation, is in itself a great theme. By including elements of the graduate's hobbies and interests, you are likely to make it even more memorable and exciting. A few examples are anything from dancing, sports, flying, and cooking, to name just a few. A party of this type is usually more flexible and without the sometimes stiffness of regular parties.
Invitations Wording Suggestions for Graduation Open House Parties
Although this type celebration is usually much less formal, and the guests are free to come and go as they please, there are a few details that are necessary and others elements that are optional while creating the invitation wordings for your open house graduation party. Here are a few of those suggestions are that are essential: venue; date; time; hours of the party; guest of honor; who is hosting; and RSVP details. Now, here's a list of optional details you might want to consider including: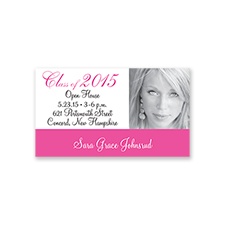 theme
attire
short verse, saying, or quote
no gifts, please
type food to be served
honors, achievements, and accomplishment awarded guest of honor
So, as you can easily see, for a more informal type celebration, the open house party is much preferred. Just ensure your invitation wordings include the basic details and leave the remainder up to your invited guests.