kids of all ages eagerly anticipate the time to prepare and send personalized birthday invitations for children when they know it will be a fun celebration with lots of gifts
Helpful Kids Birthday Invitations Wordings for Your Kid Parties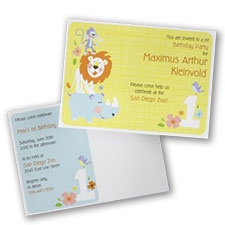 At the younger ages, all kids begin to anticipate the arrival of their birthday when he knows it will be a fun celebration surrounded by lots of his friends and some family, no doubt. And, what parents don't look forward to all the excitement, beginning with the selection and creating of unique birthday invitations for children party continuing on with the planning for party favors, colorful balloons, fancy decorated cakes, goodie bats, and the opening of presents? It's an occasion when the mom can be totally free to generate those oh so important and cute kid birthday invitation wordings that are sure to impress those receiving them. We stive to ensure that our colorful invite wordings complement our exclusive birthday party invitation cards that are ideal for childern parties of all ages. And, while ordering your party invites, be sure and include matching children birthday party thank you cards, which will definitely be needed.
We Invite You to Select the Particular Type of Kid Birthday Party Wordings Below
View Samples for Kid Birthday Party Invites
for our entire selection of children birthay party themes and invitations, click on the image shown above
What is the Appropriate Amount to Spend on a Child's Birthday Gift?
This is truly a difficult question, as there are no hard and fast rules, so again, you should rely on suggested etiquette guidelines. After all, this occasion is all about giving something special to acknowledge and reward the child on his special day. Simply put, you should spend the amount in your budget, and if that's $10 per gift, work with that. To help, you might want to ask the birthday boy's mom about his interests so you know that whatever you buy will be loved and appreciated. Of course, the older the child, the more difficult this task becomes.
Letting Your Child Help Pick Out the Gift to Be Given
Depending on the age of your child, generally, he will know what the birthday child would like more than you, so by all means, shop with your kid. This experience also teaches him about giving, which is always a worthwhile experience. For the younger children, you should ask him questions about what his friend might want and enjoy playing with or using. For instance, you could ask something like, 'Does Tommy like drawing or playing with cars and trucks at school?' For preschoolers and kindergarteners and up, you might say, 'We have $15 to buy Tommy a present, so what do you think he might like'? For those kids who are simply too young to understand or are at the 'mine, mine, mine'! stage, just go get a gift without him and be done with it.
What to do When Your Budget Does Not Include Presents for a Child Birthday Party
Sadly, there are those who are in this predicament, so what to do? The most obvious and best option is to call the parents of the birthday child and let them know. You can say something such as, 'birthday gifts from stores are really tough for us to purchase right now, so we'd like to bake Renee's favorite cookies. What does she really like'? This way the birthday mom is not surprised and knows what to expect, and how much you truly care, without asking her what you should do. Another alternative, although certainly not as much fun, would be to discuss the situation with your child and courteously decline the kid birthday party invitation.
Sometimes, You Just Have to Decline the Invitation
And, then there are those occasions when your child is invited to a party and needs to buy something like a costume or admission to an amusement park, but you can't afford it or don't want to buy it. An alternative with the costume is to DIY it with your child and make it a great bonding project. If the event requires a specific dollar amount, then it's all right to simply decline the invitation and, alternatively, offer to have the child over at a later date to celebrate with special cupcakes or maybe even with a small gift.