typically lingerie bridal party showers are a much less traditional and lots more informal, so be creative with your invites
Find Help Customizing Your Lingerie Bridal Shower Invitations Wording to Impress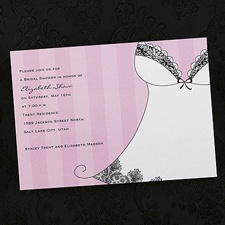 For those bridal party planners who want something a bit different, yet fun and exciting to shower their bride-to-be, you might want to consider a lingerie bridal shower party. Our uniquely themed bridal showers are a wonderful way to celebrate with the future bride in a more tailored fashion, and lingerie party the perfect opportunity to give the bride beautiful pieces for her honeymoon and after. After all, usually packing for a getaway and planning for the future might become an after-thought when wedding planning gets into full speed ahead mode; therefore, any way that you can help pamper the bride and have fun with her best girl pals is highly rewarding. The wordings for your lingerie bridal shower invitations are very important. Be creative is the issue for your event, so be sure and include a fun poem and list all of the important information after. Check out our extensive and exclusive lingerie bridal shower party invitation designs, along with our large data base of invitations wordings samples for all type lingerie bride parties.
Lingerie Bridal Shower Party Invite Sayings, Wording, and Verse Samples
Judy is getting married
and she must look her best
We're having a lingerie party
so she'll be properly dressed
We're having a
Lingerie Bridal Shower
and it'll be more than okay,
As we shower
Mary Elizabeth
with lingerie
to get the marriage
on its way!
She's tossing out the cotton
and making room for all the lace
If only we could be there
to see the look on Roger's face!
Cotton pajamas are usually
Allison's night time attire
She needs a few things
to help light the fire
A lingerie shower
will start her off right
Let's outfit her for
the honeymoon nights!
Janice and Dan
will soon be wed
Let' get Janice
dressed for the
honeymoon bed
Join us for one last fling
one weekend before
the wedding bells ring
Deana will be queen for the day
First we'll shower her with love
lots of luck and lingerie
Then it's out for a night on the town
So bring your dancing shoes
and your ball gown
There's been plenty of preparation for
Margaret's Wedding Day
Now all she needs is a little lingerie!
Bring something skimpy
for Chloe to wear
Risqué or Lacey
that will make Robert stare!
Could be leather,
could be lace
Choose something sassy
to please Lauren's taste!
As Kelley's big day
draws near
It's time for the daytime
Hanes to disappear
Make her boxers and
tee's go away,
Let's give Kelly and Ryan
more reasons to play!!