remove the stress and anxiety from your party invitation wordings by relying on our gigantic collection of wording samples for all party occasions
Custom Party Invitation Wording and Hassle Free Birthday Party Invitations Wordings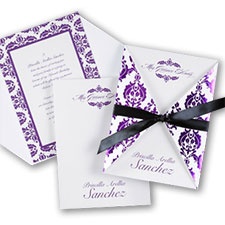 Creating thoughtful and memorable party invitations wording, to some, comes rather easy, but to many birthday party invitations wordings can be intimidating and a daunting task. However, coming up with your own original expressions for your unique party invitation cards shouldn't rack your nerves and try your patience. In fact, we at InvitationsByU.com, ensure the act of wording your invites is a very trouble free and approachable experience by offering you the exclusive use of our large data base of sample wording ideas, verses, sayings and special quotes. In fact, we have grouped our wording ideas, samples, and suggestions by category to assist you in finding exactly what you are looking for.
Click on the Type Party Invitation Card Wording Samples
Use Any of These Stylish Party Invitation Designs for Your Invitations Wordings
Adult Birthday Party for 30th, 40th, 50th, and All Other Milestones

30 in Circles Birthday Party Invitations Card EA51TN30 20 for $54.00

Thoroughly Modern 40th Birthday Invitation Card NK81877 100 for $184.90

Typography Stripes Invitations for 50th Birthday Party Card NK2818950 100 for $159.90

Anniversary Party Invites for Silver 25th, 50th Golden and Other Milestones

Silver 25th Anniversary Photo Party Invitation Card DAPN05X3Z 100 for $269.90

Wedding Anniversary Elegant Photo Party Invitations Card TWS34274 100 for $149.90

Wedding Anniversary 50th Golden Party Invites Card WRP30762 100 for $175.90

Baby Shower Invitations for Couples Coed, Surprise Party, and More

Butterflies Couples Baby Shower Coed Invitation 7683IBU-CB discounts to 79¢ with Quantity

Surprise Baby Girl Shower Invitation Cards 7725IBU-SU discounts to 79¢ with Quantity

Bridal Shower, Engagement Party, and Rehearsal Dinner Invitation Cards

Hearts Fluttering Bridal Shower Party Invite Card NK28191 100 for $154.90

Bubbly Cheers Engagement Party Invitation Card TWS37664 100 for $96.00

The Night Before Invitations for Rehearsal Dinner Card TWS37608 100 for $96.00

Business Ribbon Cutting Invitations 7315IBU-BI discounts to 79¢ with Quantity

Business Dinner Party Invitation Announcement Cards 7266-IBU-BI discounts to 79¢ with Quantity

Company Anniversary Party Invitations 7435-IBU-BI discounts to 79¢ with Quantity

Graduation Party Invitation Stationery 7243-IBU-GP discounts to 79¢ with Quantity

Open House Graduation Party Invitations Card GY12861LD1 100 for $49.30

Graduation Polka Dots Photo Party Invitations 7513IBU-GP discounts to 79¢ with Quantity

Holiday Parties for Christmas, Halloween, Mardi Gras and More

Country Christmas Party Invite 5540-IBU-CH discounts to 79¢ with Quantity

Halloween Pumpkins Galore Invitations 7431-IBU-HW discounts to 79¢ with Quantity

Mardi Gras Celebration Party Invitation 2472IBU-MG discounts to 79¢ with Quantity

Party Invitation Cards for Housewarming Celebration 7658IBU-HI discounts to 79¢ with Quantity

House Warming Party Invitation Card NK925 100 for $79.90-100 for $204.90

Open House Flourish Leaf Party Invite Card 7668IBU-OH discounts to 79¢ with Quantity

Kids Birthdays for 1st, Quinceañera, Sweet 16 Party and More

Gingham 1st Birthday Party Invitation Card CA42U3G 100 for $94.80

Quinceañera Royal Crest 15th Birthday Invitation Card JKN26852 100 for $318.90

Sweet 16 Girly Glitter Birthday Party Invitation Card TWSN35255SS 100 for $318.60

Hawaiian Luau Surprise Invitation Cards 7416-IBU-LP discounts to 79¢ with Quantity

Religious Celebrations for Baptism, Communion, Mitzvah, and More

Baby Baptismal Invitation Stationery 7363-IBU-BP discounts to 79¢ with Quantity

Grape and Chalice 1st Communion Invitation Card NA8314 100 for $82.90

Mitzvah Invitations for Bar and Bat Celebrations Number 7216-IBU-BM discounts to 79¢ with Quantity

Retirement Party Invitations and Announcements with Wordings

Retirement Party Celebration Invitation Card NK217 100 for $79.90- $204.90

Sailboat Retirement Invite Card Wordings on 2258-IBU-RI discounts to 79¢ with Quantity

Retiring Classic Party Invitation Announcement Card NASAC1 100 for $71.70

Surprise Celebration Invites and Wordings for Birthday Parties and More

Surprise Baby Shower Girl Invitation Cards 7725IBU-SU discounts to 79¢ with Quantity

Reveal Surprise Birthday Party Invitation Card NK27042 100 for $154.90

Surprise Party Wording for Invitation Cards 7418-IBU-SB discounts to 79¢ with Quantity

Rustic Wedding Anniversary Battenburg Lace Thank You Note Card TWSNT23467 100 for $86.90

Photo and Cap Graduation Thank You Note Card GYPT65CCX 100 for $79.90

Party Celebration Shining Thank You Note Card YMM1100 100 for $192.00
for lots more party invitation themes and wording samples, click on the image shown above
Ensuring Your Party Invitation Wording is Totally Unique - Customize your own invite card with us at InvitationsByU is really made so much easier with our patented personalize and instant preview features that enable you to add in your own words to make your invite into that custom piece of stationery that you are looking for. You have features that allow you to add a riddle or just make your who, what, when, and where more interesting. You are limited only by your imagination and creativity. And, there are lots of samples and ideas for sayings, verses, words, and quotes that you can look to use or to spark your own creativity. We want you to be completely happy with your invites and with our services, from start to finish.
Wordings for Birthday Parties that are Traditional or Unique - Whether you want to be completely unique or a bit more traditional, customizing your stationery can ensure you create the card that you want. Using our many advantages and options, there are lots of different ways for you to brand your own personality and style to your stationery. After all, the exclusive design is just the beginning of your customizing process. We proudly offer thousands of different designs for you to choose from to ensure that you have just the right look and theme you want. You can also even add uploaded pictures and sayings that you come up with to make your invite card even more enjoyable. Our options make it possible for you to use your creativity. Plus, we always guarantee to get your cards to you fast with our same day printing and shipping.
Get the Celebration Started with Just the Right Birthday Party Invitations Wordings - You can choose any one of the thousands of designs from our collection and add your own personal touches to reflect your own style and personality. Regardless of whether you want a unique ink color, you add a photo, or your own words, we offer the absolute easiest way to customize your own invitation. Whether the party birthday invites are for someone old or young, you can create the stationery to fit the occasion and the person who is being celebrated. Our features make it easy and simple, regardless of how you want to personalize your invite.
Planning Your Invitations Wordings – Planning a party can be lots of fun, especially if you take the necessary time to ensure all the details come together. The birthday party invitation cards that you decide to buy are very important, as they set the mood and atmosphere for the entire celebration from the moment that their mailbox is opened. You can take advantage of our exclusive customize advantages by adding pictures, logos, and your own words to your invites and your thank you party cards.
This will ensure you have that customized stationery and inspiring party invitation wording that you are searching for to set your invites apart from those that you find at the store.