your creative and personalized announcement and invitation wordings are a great way to notify loved ones that you are having a religious celebration
Voted Best Religious Invitations and Announcements Wordings for Sharing Your Religion Ceremony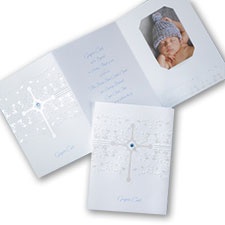 Original religious invitations wording expressed properly is a way of acknowledging and observing the sacredness of a religion event. Invitation wordings ideas are a great way to notify loved ones, family, and friends that you are having a religious celebration. However, if the ceremony is being held at a distant location where it might be too far for your invited guests to attend, then our religious announcement sayings are your way to go. Also, religious announcements are ideal where you have to limit the number of guests you can invite, yet still let everyone to know about the celebration. Please feel free to browse our gigantic sample invitation announcement wording ideas, sayings, verses, and quotes below, and religious invitation announcement stationery cards.
Click on the Type Religious Invitation Announcement Wording Idea Samples
Review a Sampling of most Popular Invitation and Announcement Designs for all Religion Occasions
Photo Baby Baptism Invitation 25 for $96.00

Bat Mitzvah Ceremony Invitation Cards Discounted to 79¢

Chalice and Grape First Holy Communion Invitation 25 for $82.90

Baby Boy Baptism Invitations Discounted to 79¢

Lacy Baptismal Blessing Ceremony Invites 25 for $96.00

Invitation for Baby Girl Baptism Ceremony Discounted to 79¢

Mitzvah Girly Glitter Celebration Invitations 100 for $484.90

Mitzvah Celebration Invitations Discounted to 79¢

Bat Mitzvah Rosy Glitz Invites 100 for $649.90

Christening Invites for Baby Boy and Girl Celebration and Ceremony

Floral Cross Christening Boy Invite 25 for $96.00

Cross Baby Christening Invitation Cards Discounted to 79¢

Christening Glowing Guardian Angel Invitation 100 for $154.90

Religious Cross First Communion Invites Discounted to 79¢

Holy Communion Rosary Invitations 100 for $174.90

Dove 1st Holy Christening Invitation Cards Discounted to 79¢

Confirmation & Dedication Religious Ceremony Invitation Cards

Bishop Hat Confirmation Dedication Religious Invitation Discounted to 79¢

Dove Religious Confirmation Dedication Invitations Discounted to 79¢

Religious Dedication Confirmation Bishop Hat Invitation Cards Discounted to 79¢

Dreidel Hanukkah Chanukah Invitations Discounted to 79¢

Happy Chanukah Hanukkah Invitation Discounted to 79¢

Chanukah Ceremony Hanukkah Invitation Cards Discounted to 79¢

Thank You Modern Mitzvah Note Card 100 for $135.90

A Blessed Baptism Photo Thank You Note Cards 25 for $101.80

Holy First Communion Thank You Notes Discounted to 79¢

Wording Sample for Baptism, Bar Bat Mitzvah, First Communion, & Other Religious Occasions

Baptismal Christening Little Damask Photo Invitation 25 for $96.00

Sacred Prayer Holy 1st Communion Invitation Cards 20 for $54.00
And, for lots more exclusive, trendy, and discounted religious invitations for your ceremony and celebration, click on the approrpiate occasion above
Memorable Religious Invitations Wording for Inviting Your Guest - You'll definitely want to get your invite words just right so recipients feel honored to have received the invitations and understand your message. We at InvitationsByU.com understand that there are some who might feel a bit uncomfortable with stationary wordings, quotes, sayings, and verses, and that is why we offer lots of free examples for all our religion announcement invitation stationery cards. Our totally free resources aide you in creating a clear, respectful, and memorable message.
Customized Religious Announcement Sayings for Announcing Your Event - As you are creating your words on InvitationsByU, you'll discover that simply changing the ink color or typestyle on your printed words can change the tone. Our special features enable you to craft the perfect tone for your stationery announcing cards since you can modify ink colors, size, and fonts. You can also strengthen the meaning of your message using our one-of-a-kind and exclusive card designs.
Make your creative religious invitations wording ideas come alive in print on our religion announcement stationery of the highest quality, as all our cards are acid free and lignan, which are guaranteed to last a lifetime of enjoyment.