use suggested etiquette guidelines when creating your wedding invitations wordings to weave romantic expressions with your word details
Unique Wedding Invitation Wordings Samples for Flawlessly Phrasing Your Stationery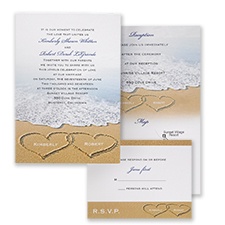 Having the most creative and perfect wedding invitation wording is one of the many elements of the wedding that every bride-to-be thinks about. As a results, lots of new brides tend to get all stressed out over choosing just the right invitation wordings for weddings. After all, you've dreamed of this big event all your life, always imagining it to be the most ideal and perfect day with every last detail attended to, including your wedding invitation cards. That's one of the many reasons, we at InvitationsByU.com understand just how important your plans and dreams are, which is why we have the most talented stationary artists available o ensure your invites are as perfect as you have always dreamed.
View Creative and Unique Wedding Invitations Ideas and Samples
Because you have shared in their lives
by your friendship and love
You are invited to share
With our daughter,

Elise Renee Evans
and
Daniel Robert Thompson

When they exchange marriage vows
and begin their new life together
Love fills the moment
and the moment begins eternity
Love fills a lifetime
and a lifetime begins this hour

Robert and Constance Davis
request the honor of your presence
at the marriage of their daughter

Robin Shanna Davis
to
Christopher Walsh Stanford
Mr. and Mrs. Mark Ford
request the honor of your presence
at the marriage of their daughter,

Catherine Anne Ford
to
Barker Michael Crews
We will walk side-by-side
Hand-in-hand . . . Forever

Mr. and Mrs. Peter Blake
request the honor of your presence
at the marriage of their daughter,

Constance Renee Blake
to
Tanner Brian Young
Two lives, two hearts
joined together in friendship
united forever in love
It is with joy that we,

Ellie Sophia Lang
and
Jorge Jose Lopez

invite you to share in a celebration of love
at our wedding reception
The honor of your presence
is requested at the marriage of

Christine Lorraine Bookman
to
Allen James Black
Please join our family
on this joyous occasion
when our daughter,

Fannie Lauren Anderson
will be married to
Blake Michael Gray
You're invited to the
wedding of

Mattie Blake Wong
to
Ian Clark Strokes
Pressing the vision into our hearts
the day we no longer live apart
One love to share, a dream come true
the day we vow to say "I do"
You're invited to the wedding of

Theresa Marie Ramirez
to
Jose Miguel Martinez
Susan Carol Drew
to
Lane Mark Franklin

invite you to their wedding
to share the beginning
of their new life together
and to witness before
God their exchange of vows
As the flower blooms and petals unfold,
we're soon to say "to have and to hold."
We've made the plans and can hardly wait
Our wedding is near and here is the date

Leslie Faye Snellings
and
Tarver Jeff Morrison

are getting married on June 21, (year)

Please join us for a day to remember
Life of caring and sharing
a love of endless giving together
The honor of your presence
is requested at the reaffirmation
of wedding vows of

Todd and Jennifer Wells
Mr. and Mrs. Roger Greene
request the honor
of your presence at the
marriage of their granddaughter,

Delia Teresa Greene
to
Wade Frank Guerrero
This day I will marry my friend
the one I laugh with, live for
dream with, and love

You're invited to wedding for

Holly Christine Carter
and
Bobby Kenneth Lutter
For hearing my thoughts
understanding my dreams
and being my best friend

For filling my life with music
and loving me without end

Please join us as we,
Karen and John Ramirez
reaffirm our, I still do's!
We met at a masquerade ball
I dressed as Cinderella
and he was my prince

Although I didn't lose my glass slipper
I did lose my heart
And our wedding will be a fairy tale
a dream without end
We walked through the meadow
and I picked wild flowers
As I admired my colorful bouquet
I asked him if he'd ever seen
anything so beautiful

He just smiled and took my hand
We have experienced love
in our parents, our families, and friends
and now a new love in each other
together with our parents, we

Maureen Susan Garner
and
Daryl Bryan Drew

invite you to share with us
a celebration of love
What began with our
African ancestors
continues as two families
become one
With joyfully hearts the parents of

Destiny Bridgett Jones
and
Tyrone Devon Washington

invite you to witness
the marriage of their children
Love fills a lifetime
and a lifetime begins this hour
when the two of us
Rene Elise Young
and
Chuck Allen Crews
begin a new life together

We invite you to share
this day of happiness
Find Most Amazing, Popular, and Affordable Wedding Ceremony Invitations and Celebration Invitation Card Samples
Bridal Shower Graceful Lace Invitations 25 for $96.00

Celebrating Marriage Announcement Card 100 for $239.90

Vintage Pearls and Lace Wedding Invitation Cards100 for $279.90

Vision of Love Marriage Wedding Announcement 100 for $358.90

Shimmer Wedding Marriage Announcement Card 100 for $474.00

Wedding Birds on a Vine Marriage Announcing Card 100 for $129.90

Thank You Bride Shower Note Cards 25 for $11.90

Simply Kathleen Wedding Thank You Notes 100 for $124.90

Photo Wedding Bride Thank You Card 100 for $125.90

Stylish Wedding Invitation Cards by Simply Kathleen 100 for $665.90

Love Story Premium Wedding Invites 100 for $1040.90

Putt'n on the Glitz Wedding Invitations 100 for $703.90

Lacy Burlap Wedding Photo Invitation 100 for $234.90

Wedding Vintage Swirls Photo Invitations 100 for $154.90

Photo Wedding Frame of Flowers Invitation Cards 100 for $234.90

Wording Samples & Ideas for Bridal Showers, Weddings, & Thank You Notes
and, for lots more wedding invitation cards, click on your special occasion above
Original Wedding Invitation Wording Factors to Review – There is really no need to think about how and what your wordings will say, and how it is best shared. The first and easiest step is merely taking the time to simply jot down all of the significant marriage details, and then merely expressing those notes in a message with elegance and style. And, of course, you'll want to be mindful of acceptable etiquette guidelines, which sometimes can be a bit tricky. And, before even jotting down your thought, you might want to start by browsing our large collection of sample invitations wordings, sayings, and verses so you can get suggestions as to how best to weave romantic expressions with your necessary details.
Expressive Invitation Wordings for Weddings and Presentation – Setting up your text and how it is presented on the stationary makes all the difference at to how your invite is received. The choosing of elegant font styles and use of appropriate colors help to enhance the serious, yet romantic nature and purpose of your inviting cards. With our patented customize and real time preview options you can completely modify the fonts, color of ink, and lots of other elements of your personalization. Additionally, you can add a picture, and we can lighten or darken skin tones on invitations, as well. All the features and many more, right here on InvitationsByU. And, our wedding thank you note cards were created to ensure they match and complement your invites.
We offer lots of special features and advantages you can use to create the most inspirational wedding invitation wording with great ease, but with best results. Just give us a try.